Drive-Thru Windows Have Become Essential in Keeping Many Businesses Open
August 28, 2020
Drive-thru windows
really have become a new standard for restaurants looking to service customers during the current crisis. Keeping the doors open for many establishments may mean keeping the windows open as well.
As reported by
Restaurant Business Online
, some businesses have reached 'pre-coronavirus' numbers utilizing drive-thru windows. This is one service model that has come out of the pandemic looking more important than ever.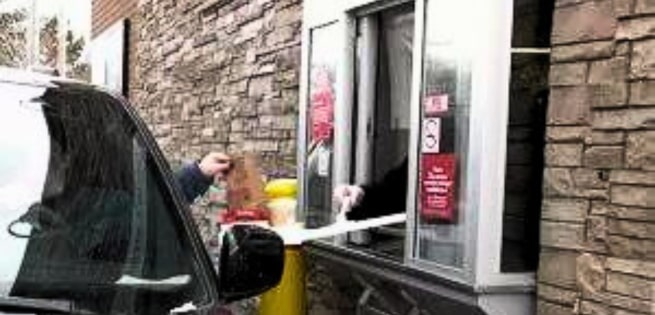 In this environment, a drive-thru window is a great option for so many people who want to limit physical contact," said Jose Cil, CEO of Burger King and Popeyes parent company Restaurant Brands International.

Nearly 95% of McDonald's locations have a drive-thru. Those windows are responsible for two-thirds of sales during a typical year. That number is now 90%.

For chains that typically don't have drive-thrus, the window is increasingly becoming an option. Chipotle Mexican Grill is now adding its mobile order-focused "Chipotlane" windows to the bulk of its new units. Outback Steakhouse owner Bloomin' Brands also plans to open its drive-thru concept.

For restaurant chains, drive-thrus provide multiple services. They're considered safer options, and they also simply make a statement, "We Are Open!
Drive-thru windows have become so essential, that they are used by more than just fast food restaurants. Drive-thrus can also be found at banks, coffee shops, food pantries, casual restaurants, pharmacies and even schools!
Most recently, City Hall in Santa Clara, California opened their drive-thru service window for the first time in decades, giving residents another option to pay bills and use additional services.
Despite the need for stopping the spread of viruses and other germs, there are still so many Drive-Thru windows that are not using touchless technology and rank high among the list of contact points employees touch multiple times a day.
Door Services Corporation can service your drive-thru window and also recommends automating your window with Horton Automatics'
Automatic Sliding Window.
Horton's automatic sliding window has a touch-free sensor to eliminate repetitive contact by employees. The pass thru window can either be a bi parting or single pane window. Establishments such as Tim Horton's, In-N-Out Burger, various bank and pharmacy locations and more have turned to Door Services Corporation and Horton Automatics for this touchless technology solutions.

Did You Know? Interesting Facts About The First Drive-Thru Restaurants
In 1931, Los Angeles, a franchise location of the popular Pig Stand chain in Los Angeles began allowing drivers to order through a window of the store rather than with a carhop. Other chains soon followed suit, and in 1948 the first true drive-thru went into business in Baldwin Park, California. Its name: In N Out Burger. Horton Automatics of Ontario is proud to serve one of the first! Complete with a state-of-the-art intercom and a lack of seating, In N Out Burger delivered on its name, and customers were in and out in record time.

Drive-Thru Windows Today
Today's drive-thrus are held to high standards, as the wide variety of options forces business owners to strive for greater levels of customer satisfaction. There are many factors that affect drive-thru success:
Convenience
Customer Service
Reduced exposure to germs/viruses with automatic configurations
Superior craftsmanship
Door Services Corporation can help your business succeed with features like added convenience, automatic configurations, and superior craftmanship.
Horton Security windows are designed for pharmacies, labs, supply rooms and other secure areas where transactions occur. Systems come standard with self-closing configuration and auto locks for additional security. Additional options include bullet-resistant glass and the windows are available in automatic and manual configurations.
Drive-thru service systems are designed for drive-thru pharmacies and food service businesses and come in automatic and manual configurations. They are available with a choice of countertops and other custom features.
Contact
Door Services Corporation today to learn more about automatic window, drive-thru configurations.
Sources:
Restaurant Business Online:
https://www.restaurantbusinessonline.com/financing/drive-thru-becomes-pandemic-necessity
Serious Eats:
https://www.seriouseats.com/2020/04/drive-thru-history.html
Mercury News:
https://www.mercurynews.com/2020/08/14/santa-clara-city-hall-drive-thru-to-open-for-first-time-in-decades-giving-residents-another-option-to-pay-bills/
Carrentals.com:
https://www.carrentals.com/blog/drive-thru-history/
Categories
Recent Articles
Drive-Thru Windows Have Become Essential in Keeping Many Businesses Open