Prescription for Automatic Door Selection and Maintenance
June 24, 2021
Most people, especially those in the healthcare industry, are familiar with saying, "an apple a day keeps the doctor away". This adage serves to remind individuals that by taking proactive measures to safeguard their health, they can help avoid potential health problems in the long run. When it comes to automatic doors, a variation of this same straightforward logic applies. To circumvent costly, and potentially dangerous problems with automatic doors, prevention entails proper selection, planned maintenance and daily safety checks.
[Original article by, Christopher Johnson, The
American Association of Automatic Door Manufacturers (AAADM)
.]
Automatic Door Selection
To choose the right
automatic door
for any application, the facility layout, types of users, density of traffic, desired visual impression and expected use/abuse must all be considered. Additionally, there are often many added and complex requirements to take into account when selecting automatic doors for healthcare facilities. Automatic doors
in hospitals
, doctors' offices, surgical centers and other healthcare settings frequently play an important role in keeping patients, employees, pharmaceuticals, sensitive medical records and expensive medical equipment safe and secure. Furthermore, large access areas are often compulsory in healthcare facilities to enable easy transfer of beds and gurneys, so the design of the selected doors must support this as well. Together, the facility owner, designer and door supplier must take the responsibility of ensuring the doors work with the facility's security system.
There are three basic types of
automatic doors
: automatic sliding doors, automatic swinging doors and automatic folding doors. Many manufacturers offer door models that have been specifically developed for special care facilities. These models are often designed to enable ongoing observation of patients, without the disturbance of outside noise. Some are also designed to make it possible to open the doors to the full width of the doorway in emergency situations, thereby allowing staff to move large beds and cumbersome equipment quickly and easily.


Automatic Door Maintenance
Once all critical issues have been considered and the selection process is completed, it's time to consider a planned maintenance program for your new doors. Steps need to be taken to protect any investment, and automatic doors are no exception. A planned
maintenance program
can significantly reduce the cost of ownership by increasing performance life and keeping emergency service calls to a minimum. There are numerous kinds of planned maintenance programs available. The number of automatic doors the facility owns, the amount of customer traffic, the age of the automatic doors and the proprietor's overall attitude toward maintenance programs typically influence which program is chosen. Offerings often include a range of programs that extend from basic to full-service.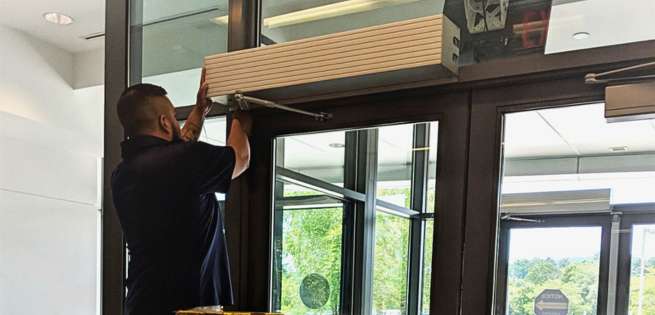 Basic Planned Maintenance
A basic planned
maintenance contract
usually provides a facility with minimal on-site inspections.
Door Services Corporation
recommends
2 preventative maintenance checks
per year. At these basic maintenance visits, the inspector checks that the doors comply with AAADM requirements. If necessary, repairs are made, with costs generally dictated by service time and materials. During a basic inspection, the doors' sensors are tuned, opening and closing speeds are checked and adjusted, when needed to comply with ANSI Standard 156.10, the national consensus standard that defines and governs requirements for pedestrian automatic door systems. Components, belts, gears and lubricants, pivots, glass and guide rails are also checked.

Full Service Maintenance
A
full service contract
includes all of the advantages of a basic planned maintenance contract, but usually has a set price per door for repairs. A full service contract can be structured per year or per visit. Most agreements include parts and labor, routine service calls and any calls during business hours and discounted rates for emergency services.
According to
AAADM
, one of the biggest benefits of a full service contract is that it gives customers the ability to fairly accurately budget every dollar they will spend on door service costs throughout the fiscal year and predict the dollars ahead of time. Furthermore, a full service plan ensures that doors are operating in prime condition and unscheduled downtime is reduced.

Daily Door Safety Checks
Daily safety checks play a vital role in ensuring your automatic doors are operating properly and safely. These routine checks reduce maintenance costs by calling small problems to operators' attention before they become larger, more costly issues. Make sure to check out AAADM's
Daily Safety Check videos
. These videos are excellent training tools.
You should perform daily safety checks on each
automatic door
. For clients' safety and your own protection, you may wish to perform these checks while traffic is light. It does not matter when you conduct your daily safety checks, but it is a good idea to get in the habit of doing them at the same time every day. It is advisable to check your door each morning when the power is turned on to the door system or after any loss of electrical power. Always exercise caution when performing daily safety checks.

Case Closed
With 50 billion safe automatic door openings and closings every year in the United States alone, automatic doors hold an exceptional safety record. Automatic doors are manufactured with the most sophisticated technologies that ensure the safest and most efficient performance from each component of the door system. The key to safety is proper specification, installation and maintenance.
For further details on sensor safety checks, how to make informed decisions on your automatic door installations, and more, read this post in it's entirety on the AAADM website, here.
Should you require advice from AAADM certified technicians and installers, Door Services Corporation can help. Trust the professionals at Door Services to protect your investment. Your trusted automatic door company has door maintenance specialists on hand to perform maintenance and repairs.
Prescription for Automatic Door Selection and Maintenance
Categories