11 Factors in Considering Whether Your Commercial Doors Need to Be Repaired or Replaced
January 07, 2022
If repairs are necessary, what type of automatic door service is best for your facility?
Automatic Doors
are the most essential items in your building when it comes to entry and exit, whether it is an exterior or interior door. If any of your automatic sliding doors, security doors, revolving doors or any door in your building are not working properly, you have a big problem on your hands!
The failure of an automatic door to operate can result in problems that are related to more than just entry and exit, it can also be a factor in increasing your energy bill if the door isn't shutting properly.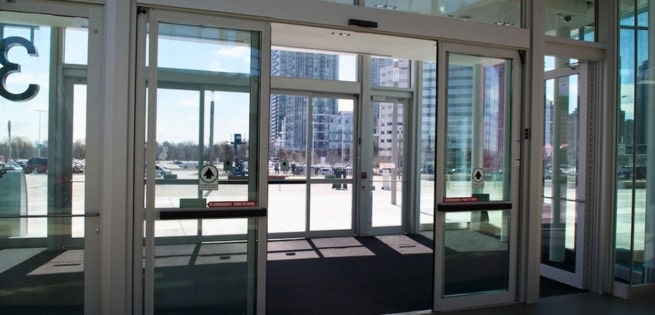 Even with the best of maintenance, your doors may eventually require replacement. The challenge for managers is finding the tipping point. Is it best to repair the existing door(s), or is it time to invest in a new one? Wait too long, and the cost of maintenance could become excessive. Replace it too soon, though, money may have been wasted.
Making the correct 'repair or replace' decision requires an understanding of the condition of your doors.

Facility Managers can develop an understanding by carefully examining key factors:
1. Has the automatic door in your facility recently been damaged? Auto doors are designed to last for years, even decades, but if enough damage has been done, it may be time for a replacement!
2. Does your door seem to malfunction more regularly and need repairs more regularly? It could be time for a new door.
3. If the replacement parts needed to fix your door are not easily accessible, this may be another sign that it is time to replace your automatic door.
4. Have safety standards recently changed in your commercial area? Are there new building code updates? If so, then it is time to evaluate if your existing door is still relevant for your business. Your doors need to operate at their peak and also need to adhere to safety codes.
5. What first impression are you giving to people who enter your building? If it's no longer up to par with your expectations, you may need a new look to meet the image you desire.

Check the General Area Surrounding the Automatic Sliding Door
If you are dealing with any of the following, it is likely you just need an automatic door
service expert
to come out an examine your doors.
6. Sensors: Walk to the door at a moderate pace. Check that the door opens when you are a few feet away and that it slides smoothly and stops without impact. Generally, the sensor should activate the door from no further than five feet away and no closer than 43″ from the door. After stepping out of the sensor area the door should remain open for at least 1.5 seconds.
7. Closing Rate: Remain directly between the doors to check that doors stay open. The door should open fully if closed, if open it should remain open for at least 1.5 seconds after you move your hand. The door should be adjusted to close at a rate of no faster than one foot per second. The doors closing speed should become noticeably slower at least two feet before fully closing.
8. Door Hardware: Check if the mat (If present) and threshold are secure, check all door panels for broken or cracked glass and make sure an 'emergency push open' sign, as well as a 'caution automatic door' sign are properly displayed.
9. Mats: Step on the opening mat. The door should swing open smoothly without getting caught or being impacted by the mat. A mat should be nearly as wide as the door opening allowing for five inches of room on either side. After stepping off the mat the door should take at least 1.5 seconds before it begins to close. Walk test the mats by standing in several areas.
10. Clearance: The door area should be free from merchandise displays or other attractions where people could be hit by the door.
11. Keep up with the weather: Keep on top of inclement weather and any issues it may cause. Be sure the floor guides are kept cleaned and free of any debris that could prevent the door from sliding. Exposure to UV rays, freezing rain, snow, and ice, can cause mats to become brittle, have contact problems, and fall apart. If this occurs the automatic door will either fail to open, fail to remain open, or react erratically when stepped upon. All of which can be a safety concern.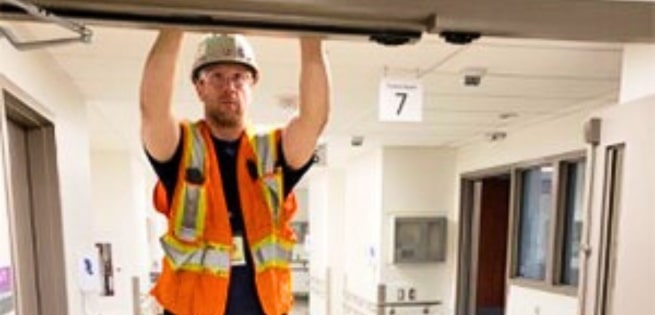 Even after examining the condition of these key factors you may be asking yourself about the next steps. This is where
our certified technicians can help
. All our technicians are AAADM (American Association of Automatic Door Manufacturers) certified and carry their AAADM cards with them. Someone from our team can come out and inspect your door and surrounding area and help you determine next steps.

Regular Automatic Door Maintenance or Annual Service Contract?
The technician may propose that your doors simply need a refresh of parts or guide you on upgrading your door system(s). If your
door needs maintenance
, he/she may propose an
annual contract
to keep your doors in working order all year round. Data actually shows that these automated door service contracts can
save your business 25%
over the life of the doors.
By performing
regular inspections and maintenance
of your automatic door you can prevent avoidable damage and mishaps. Should you require advice from door maintenance specialists, we're here to help.
After this consultation, managers can more successfully factor in the current and future needs of the door(s) located at their facility.
Categories
Recent Articles
11 Factors in Considering Whether Your Commercial Doors Need to Be Repaired or Replaced