Why Automatic Doors Make An Ideal Solution For Retail Applications
January 19, 2023
Automatic doors are one of those modern phenomena that we all take for granted. They are everywhere – your local bank, the post office, the pharmacy – it's tough to go to any commercial space without walking through one.
If you're a business owner considering whether an automatic door will make a good addition to your commercial property, read on. Research shows that
98% of Americans prefer automatic doors
and that they provide
more convenient access
than manual doors. You can't go wrong with an automatic door system if you want to appeal to the general public and make them feel welcome in your establishment.
How Wide Do Storefront Doors Need to Be?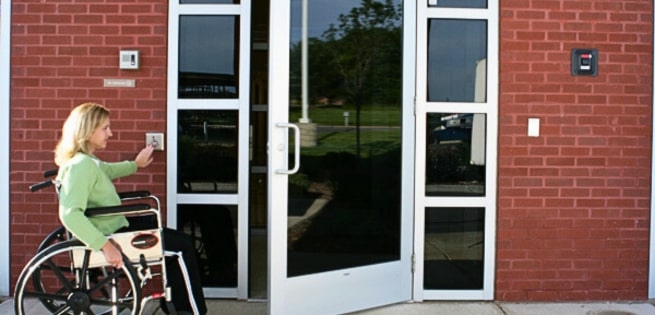 Storefront doors vary in size depending on a lot of things. For instance, how big is your retail store? If your establishment is of a smaller size, then it's likely that you don't need a massive 16-foot door in the front of your store. However, larger retail giants, grocery stores, and superstores are well-known for their large glass storefronts.
The benefits of a larger storefront are numerous. Not only do they invoke a feeling of welcome and invitation due to their large size, they also serve many practical purposes. For example, multiple groups of people can easily enter and exit, which improves customer traffic flow. Another major benefit is that less mobile people, such as those in wheelchairs or on crutches, have an easier time entering.
Are Storefront Doors ADA Compliant?
If you're worried about being ADA-compliant, then there is a certain width that you should meet. Most commercial doors built these days come in a width of 36 inches. With the hinges taken into account, this gives the business the clear width of 32 inches mandated by the ADA for a business door to be considered ADA-compliant.
This size is the requirement because most wheelchairs, mobility scooters, and people with mobility aids can go through them. Another thing that ties into ADA compliance is the force required to open the door. The ADA states that this force must be no greater than five pounds.
Are Automatic Doors the Future for Retail Businesses?
At this point, you could argue that commercial automatic doors aren't just the future – they're the reality we live in. Most new businesses utilize commercial automatic doors for all the benefits that we've already gone over. They are inviting, easy to go through when your hands are full, and anybody can go through them, no matter how tall, wide, or mobile-challenged they might be.
What Is a Commercial Storefront Door?
A commercial storefront door is simply a door placed at any commercial property's entrance. Many modern
retail stores
use
commercial storefront doors
because they use stronger safety glass than other glass doors. This makes them an ideal solution for business owners worried about safety and security matters. If they were to break, then they are less likely to pose a safety threat. However, they are also much harder to break than your average commercial glass door.
Many types of businesses offer
commercial door repair services
. Commercial door services are simpler than you might expect them to be. While many automatic sliding doors or automatic swing doors require more knowledgeable commercial glass door repair people, most door service workers can repair or replace the glass used in your typical storefront entry door.
However, automatic sliding doors and revolving doors on a commercial building might be a little more expensive to fix, so if you're weighing the pros and cons of what kind of door to go with, you might want to consider that depending on your budget.
Have questions or want to schedule automatic door installation, maintenance, or emergency service?
Reach out to the technicians at Door Services Corporation
for more information.
Categories
Recent Articles
Why Automatic Doors Make An Ideal Solution For Retail Applications