Check Your Doorway Size Today and Ensure Wheelchair Accessibility Compliance
May 08, 2023
If you own a commercial property open to the public, you are responsible for ensuring the facility is accessible to wheelchair users. The government took this very seriously and developed a set of regulations with the ADA to ensure the expectations were clear.
To avoid non-compliance issues, you must look at the regulations today and ensure the size of your doorway is up to code.
To save you some time, we did the leg work for you. Below is detailed information on doorway size and other doorway compliance regulations required by the ADA.
Why Does Doorway Size Matter?
There are doorway compliance requirements that you must meet for wheelchair accessibility. The rules and regulations were implemented to ensure safety and create equal opportunities for all regarding access to facilities.
To provide the best service for your customers, clients, patients, etc., you must ensure safe, comfortable, easy entrances with plenty of room to move from room to room inside.
If a wheelchair cannot gain access to your building, not only are they losing out, but so is your business.
Wheelchair Accessibility Compliance
Doorway size compliance for wheelchair accessibility varies from country to country. However, according to the ADA (Americans with Disabilities Act), the US developed a specific set of accessibility standards enforceable by law, requiring non-discrimination amongst people with disabilities in commercial facilities. This includes providing wheelchair-accessible doors.
Amongst these regulations, there are specific sizes required.
What Is the Best Doorway Width for Wheelchair Access?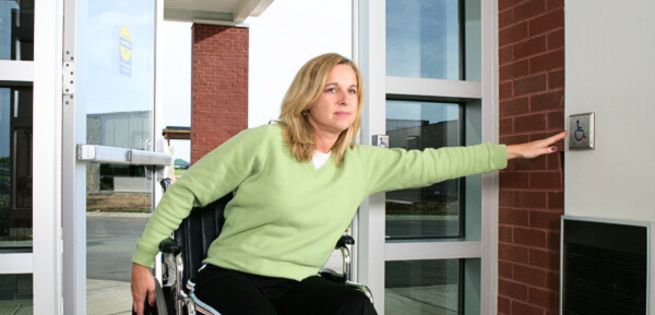 A wide doorway leading in and out of your building is essential for those who require a wheelchair to get around.
According to the ADA, the minimum width for commercial doorways is 32 inches across, with the maximum recommended width being 48 inches.
This includes the measurements for exits, entrances, and inside doorways.
How Wide Is a Typical Wheelchair?
When you consider the size of a wheelchair-accessible doorway, you have to think about the size of a wheelchair. The average width of a wheelchair is 26 inches.
This doesn't mean you can have a doorway 26 inches wide that is accessible to the majority of wheelchairs. A doorway of that size doesn't allow for room to maneuver through.
What to Do If Your Business Entryways Are Inaccessible to Wheelchairs
If you are a first-time business owner, it is always a good idea to look for a property where the existing doorways are already at least 32 inches wide. However, this isn't always easy to do.
If you must make alterations or install new doors, it's a good idea to consider all the other factors that come into play. This can include space around the doorway, ramps, and paths.
What to Consider When Resizing a Doorway for Wheelchair Users
Standard door sizes range from 24 to 36 inches in width, which means not all doors are wide enough for a wheelchair to pass through. Whether you are resizing a door for your commercial space or a family member in the home, you must ensure all doorways are wheelchair-ready.
You can't always find a suitable business location that already meets these requirements, so once you secure your space, you'll need to invest in some renovations.
Install New Doors
First things first. You must install new doorways in your building. According to the ADA, at least 60% of public entrances must be wheelchair accessible. This includes at least one on each level of a parking structure with direct access to the building.
You also want to make sure that the door has an ample amount of clearance. This means there is plenty of room for the wheelchair to maneuver while moving through the doors.
Install a Ramp and Entrance Landing
If your only entrance points require stairs, you must provide a ramp and proper entrance landing for wheelchair access.
The landing must provide enough space for the wheelchair user to maneuver safely from the ramp to the doorway. It is typically recommended that the door swings out, as this is a safer option.
Create an Accessible Path
According to the ADA Access Board, "When alterations are made to primary function areas, a connecting accessible path of travel from site arrival points is required to the extent that it does not exceed more than 20% of the project cost."
In simpler terms, it should be a top priority of the property owner to create an easily accessible path to the entrance of the building for those that use a wheelchair.
Other Features to Consider
When attempting to make your facility wheelchair accessible, other features can help make things a little easier. Some options include:
Loading zones- A place where disabled people can be dropped off and picked up
Parking spaces- Allow enough room for wheelchairs to maneuver between vehicles
Bathrooms- Make sure at least one bathroom stall is wheelchair accessible
Elevators- Provide plenty of space for a wheelchair to move around
Signs- Make sure all accessible doorways are clearly marked
Automatic door controls- Door controls are a great way to make opening and closing doors easier for those in wheelchairs
Other ways to ensure wheelchair accessibility in your facility include keeping doorways and entrance areas free from clutter, fixtures, and elements. You should also make sure there is always plenty of turning space near these entrances and exits.
It Is Time to Install a Wheelchair Accessible Door in Your Building
If you've come to the conclusion that your doorways are not up to regulation standards, then it's time to invest in a solution.
Businesses that violate the ADA compliance guidelines can face fines as high as $75,000 for the first offense and another $150,000 for additional compliance infractions.
Why risk paying hefty fees when installing wheelchair accessible doors can be so easy? All you have to do is call a reputable door service in your area that specializes in commercial door installation.
Categories
Recent Articles
Check Your Doorway Size Today and Ensure Wheelchair Accessibility Compliance