Door Services Corporation Announces Participation with Horton Automatics and Won-Door in the Launch of Horton Pedestrian Access Solutions
April 21, 2021
Door Services Corporation, Part of Horton Pedestrian Access Solutions, is the Leading Provider of Service and Installation in North America.
April 13, 2021 –
Door Services Corporation
, a Horton Automatics Company, owned by Overhead Door Corporation, announces participation with Horton Pedestrian Access Solutions as the leading provider of service and installation in North America.
The launch of
Horton Pedestrian Access Solutions
(HPAS) includes the acquisition of Won-Door by Overhead Door Corporation.
Overhead Door Corporation, a leading provider of door and access solutions, announced this acquisition of
Won-Door Corporation
April 1, 2021. Won-Door Corporation is the market leader in accordion style fire and security door solutions.
Won-Door's innovative, life and property-saving products are installed hidden from view until automatically deployed when needed, making them an attractive, wide-opening fire and security solution for architects and building owners alike. Continuing operations under its existing brand, Won-Door will become part of a strategic business unit with Horton Automatics and will expand Overhead Door Corporation's leadership in innovative pedestrian access solutions.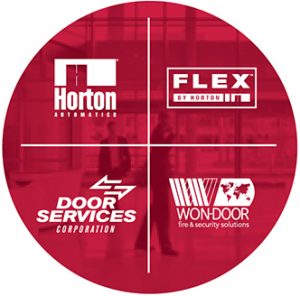 "This combination addresses our purpose: Creating Safe and Secure Access for Generations", said Kelly Terry, Overhead Door Corporation President and Chief Executive Officer. "The addition of Won-Door to the Overhead Door Corporation family enhances our pedestrian access solutions, specifically in fire and security, while expanding our addressable market."
Where does Door Services Corporation come in?
Door Services Corporation
is honored to be chosen to be part of this new HPAS team to help expand Won-Door's presence in North America and Canada. Not only will all of our locations be trained on installing Won-Door but we will also act as a service provider in our ever expanding service areas.
Horton Pedestrian Access Solutions
fuses together decades of technology & engineering expertise, and continues to solve some of the world's most complex access challenges with innovative solutions for customers in industrial and commercial markets. The HPAS expanding portfolio of solutions includes:
Horton Pedestrian Access Solutions develops technologies and services that improve human comfort and provide safety, security, and convenience to further contribute to the prosperity of our society.
Overhead Door Corporation manufactures door and access solutions under some of the most trusted brands in North America including Overhead Door, Wayne Dalton, Genie, Horton Automatics, Door Services Corporation, Won-Door, Flex, and TODCO.
Overhead Door Corporation is a subsidiary of Sanwa Holdings Corporation of Tokyo, Japan. For additional information, visit
https://ohdcorporation.com
.
Media Contact: Krista Rivers, Marketing Specialist / marketingds@overheaddoor.com
————-
ABOUT DOOR SERVICES CORPORATION
Your expert partner for pedestrian door service and installation, our company was built on quality products and long-term customer partnerships. We are a member of the American Association of Automatic Door Manufacturers. Our AAADM certified technicians have over 50 years of product knowledge. We service and repair all doors and windows models of all automatic door manufacturers.
24/7 emergency service
is available to meet your after hour needs in our designated coverage areas:
Advanced Door Automation services North Carolina and east to the coastal regions
Advanced Door Service services Eastern Pennsylvania, Virginia and Georgia
Keystone Automatic Door Enterprise services Northern Pennsylvania
Allegheny Door Enterprises services Western Pennsylvania
Automatic Door Enterprises services Lansdale, Pennsylvania and surrounding areas
Del-Mar Door Service services Delaware
Door Controls services Louisiana
Eastern Door Service services greater New Jersey area
Texas Access Controls services Dallas, Houston, Austin and Corpus Christi, Texas areas
Horton Automatics of Ontario services Ottawa Valley and Southern Ontario, Canada