How Revolving Doors Save on Energy Costs for Your Business
October 31, 2022
While revolving doors are not always the go-to entrance method for people, they significantly benefit buildings. By acting in different ways to prevent the loss of air pressure, it is easier on a building's HVAC system to use revolving doors rather than swinging doors. Below, we discuss how revolving doors save on energy costs.
What Are Revolving Doors?
Revolving doors
have three to four doors hanging on central shafts rotating around a vertical axis in a circular enclosure. Initially, they were created to relieve pressure generated by air rushing through a high-rise building (stack effect pressure) while permitting volumes of people to enter a building.
Are Revolving Doors Safe?
Revolving doors must be
equipped with sensors
(both passive and active) that stop rotation if obstructions are detected. Entry-point sensors prevent people from getting trapped while the doors rotate.
The wall sensor also contains a contact safety edge that detects obstructions and stops the rotation immediately. While it may feel redundant, it does provide enhanced security for those entering the building and peace of mind for the owners.
The bottom of each wing contains toe guard sensors geared to detect obstructions that are four feet from the floor and contain under 44.5 N of pressure. It eliminates occurrences of a heel being trapped under one of the wings. All these sensors prevent injuries to those entering or exiting the premises.
Revolving doors need to be
serviced and maintained
to ensure that they are working properly, and are in compliance with any health & safety regulations in your region. In simplest terms, these doors need to be serviced to ensure that they are functioning properly, and are safe and effective for customers, employees, and any other users.
Do Revolving Doors Actually Save Energy?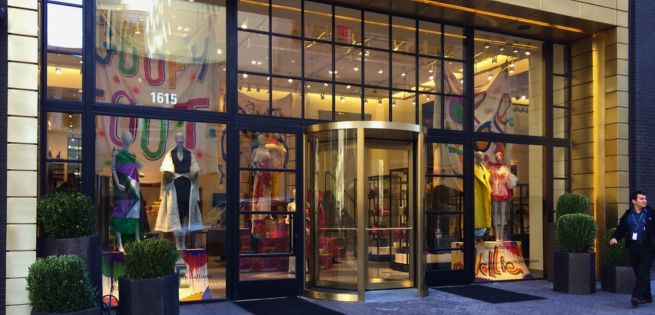 Revolving doors are
extremely energy efficient
in a building as they prevent drafts, behave like an airlock, and prevent the loss of cooling and heating. While there is limited research comparing energy efficiency based on door type, studies have found that the amount of energy saved will vary according to climate, building, and pedestrian traffic
A study
conducted by MIT
concluded that if everyone used revolving doors when entering campus buildings, it would equate to a 1.5% annual savings required to heat and cool the building.
How Do Revolving Doors Save Energy?
Revolving doors save energy by maintaining a tight seal between the entrance or exit of a building and the outdoors, decreasing the amount of air conditioning and heat lost. Each time a swinging door opens, energy is lost. The HVAC system must compensate for that air loss as it attempts to equalize the temperature, thus using more energy.
Replacing a swinging door with a revolving door limits the air exchanged as the door never has a direct opening – even when it is spinning. This allows the pressures to equalize, saving on energy costs.
Are Revolving Doors More Energy Efficient?
Revolving doors are open to welcome pedestrian traffic yet seal the interior, preventing outside elements from affecting indoor temperatures. This means there is less of a loss of interior air every time someone enters the building.
With swinging doors, air enters and exits buildings from air pressure differences. Regular foot traffic in large commercial buildings may generate air leaks at
30,000 cubic feet/minute
. According to the MIT study cited above, swinging doors permit eight times more air to pass through buildings than revolving doors.
They found that 75,000 kilowatt-hours of energy would be saved if everyone used revolving doors, eliminating 14.6 tons of carbon dioxide. Furthermore, despite revolving doors not being completely airtight, the barrier positively impacts differences in air pressure. While there may be some energy loss as the door spins, a lot less air passes through compared to a swinging door.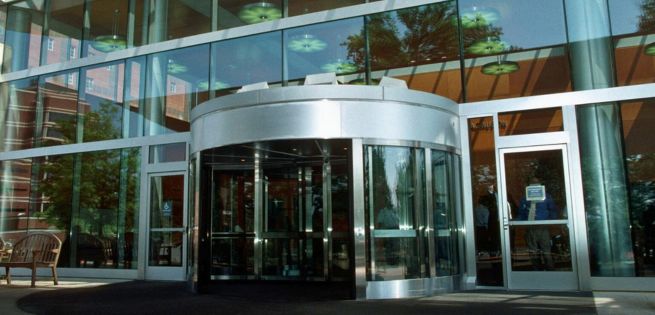 Are Glass Revolving Doors an Overlooked Solution to Energy Efficiency?
Revolving doors are not being used to their full potential as many building owners may not be aware of all the benefits of incorporating revolving doors. They are often overlooked because some people find revolving doors slow and cumbersome, which makes them less likely to be used. However, motors can run at various speeds to facilitate traffic flow, and even partial usage has a significant saving on energy costs.
Are Revolving Doors More Energy Efficient Than Conventional Doors?
As mentioned, revolving doors are more efficient compared to conventional doors. Conventional doors allow heated or cooled air to escape every time they're opened, placing pressure on the HVAC system to compensate for the energy loss to equalize differences in air pressure. Thus, the system must work harder, increasing the amount of energy being used.
Revolving doors
are a barrier
to energy loss as they are open to the public and sealed on the inside. By design, they minimize the amount of air escaping from the building, making them more energy efficient than other entrance and exit methods.
Why Get Revolving Doors for Your Business?
There are several reasons why businesses should incorporate revolving doors. Aside from being energy efficient,
manufacturers
can customize the doors to the structure and décor of a company's building. Furthermore, there are significant safety advantages to incorporating these designs.
The sensors accompanying revolving doors ensure that no one is injured while exiting or entering the premises. People are kept completely safe, providing peace of mind to business owners.
By integrating with access control systems, revolving doors can also be equipped with
physical security
. This allows any entry occurring after hours to be limited to authorized users. Doors can be manually locked by the access control system or by pushing a button located remotely. Bullet-resistant glass is also available for added security.
Final Words
Revolving doors save on energy costs for your business by preventing the loss of air pressure from the inside to the outside of a building. This prevents the HVAC system from working harder than it needs to in order to equalize the temperature each time the door is opened. The energy savings and security features are the primary reasons businesses should think about investing in a revolving door.
Categories
Recent Articles
How Revolving Doors Save on Energy Costs for Your Business