Advanced Door Service Expands Coverage a Second Time in Just Three Months!
July 15, 2021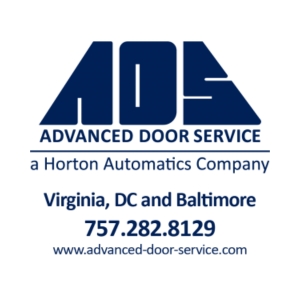 Baltimore, MD – Advanced Door Service, a leader in automatic door service in Pennsylvania; Roanoke, Virginia; and Georgia, is now expanding coverage to all of Virginia, DC and Baltimore. Advanced Door Service is a branch of Door Services Corporation, a Horton Automatics company.
Door Services Corporation
is on a mission to become the leading expert in service, sales and installation of automated entrance solutions specializing in Commercial, Institutional, Healthcare and Industrial Applications in the North American marketplace.
New hire, David Giesen joined the team to manage the new Virginia, DC and Baltimore areas. David has quite the impressive background in the door industry! With 30 years in sales and operations management and experience in commercial construction and services industries, he specializes in automatic door, storefronts and glass. He is the obvious choice for Advanced Door Service.
David's various roles in the industry include Sales Engineer, General Manager, CEO / Director of Sales, Branch Manager and Chief Estimator.
"It's exciting to see the continued growth in the door industry by Door Services Corporation. I know I want to be part of this team and am eager to be a major contributor in these new coverage areas."
Peter Lawson, Vice President and General Manager of Door Services Corporation adds,
"This expansion is another step in our continued growth strategy. So many commercial businesses need our automatic opening solutions and service expertise and we are confident that David will facilitate the growth! His knowledge and experience is exactly what Door Services was looking for in a new candidate."
If you are looking for automatic door solutions in Baltimore, Virginia or DC, call on Advanced Door Service at 757.282.8129.
Media Contact: Krista Rivers, Marketing Specialist marketingds@overheaddoor.com
—————————–
ABOUT DOOR SERVICES CORPORATION
Your expert partner for pedestrian door service and installation, our company was built on quality products and long-term customer partnerships. We are a member of the American Association of Automatic Door Manufacturers. Our AAADM certified technicians have over 50 years of product knowledge. We service and repair all doors and windows models of all automatic door manufacturers.
24/7 emergency service
is available to meet your after hour needs in our designated coverage areas:
Advanced Door Automation services North Carolina and east to the coastal regions
Advanced Door Service services Eastern Pennsylvania, Virginia, Georgia, DC and Baltimore
Keystone Automatic Door Enterprise services Northern Pennsylvania
Allegheny Door Enterprises services Western Pennsylvania
Automatic Door Enterprises services Lansdale, Pennsylvania and surrounding areas
Del-Mar Door Service services Delaware
Door Controls services Louisiana
Eastern Door Service services greater New Jersey area
Texas Access Controls services Dallas, Houston, Austin and Corpus Christi, Texas areas
Horton Automatics of Ontario services Ottawa Valley and Southern Ontario, Canada