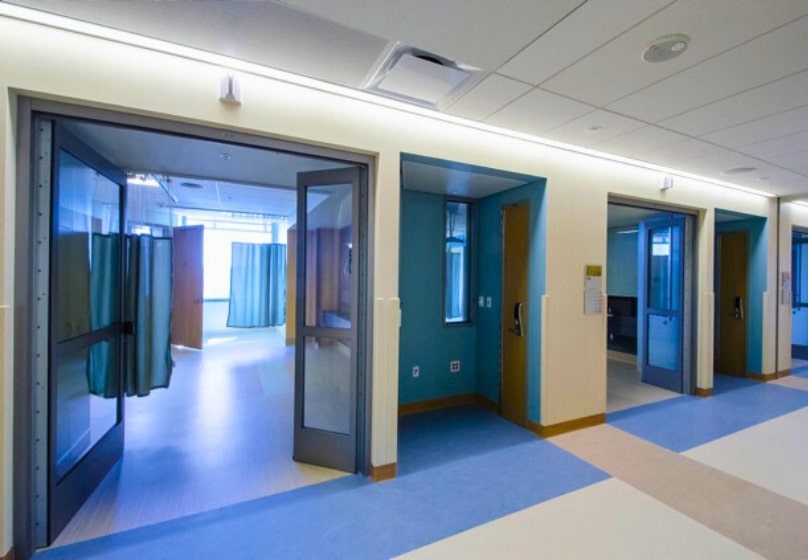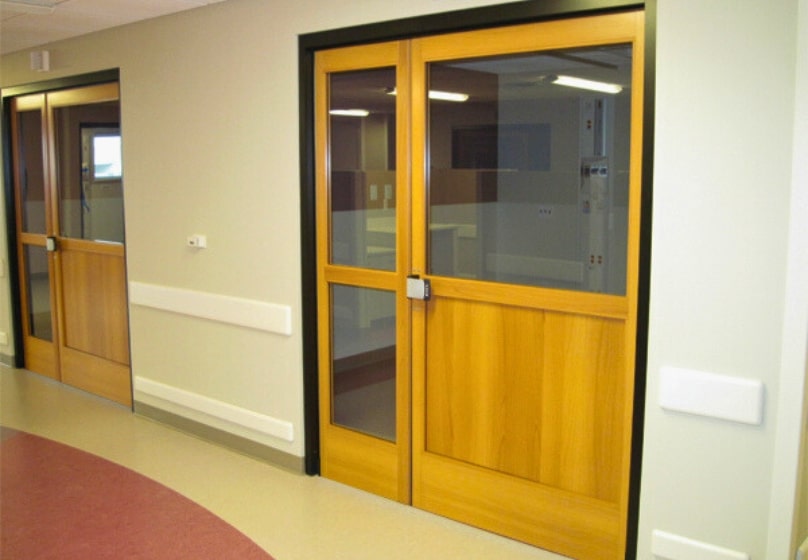 Healthcare Manual Swing ICU door by Door Services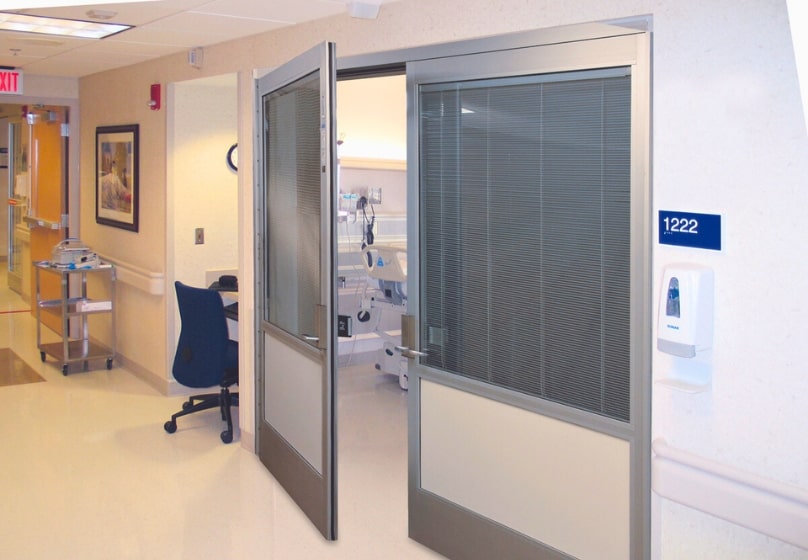 Healthcare Manual Swing ICU door by Door Services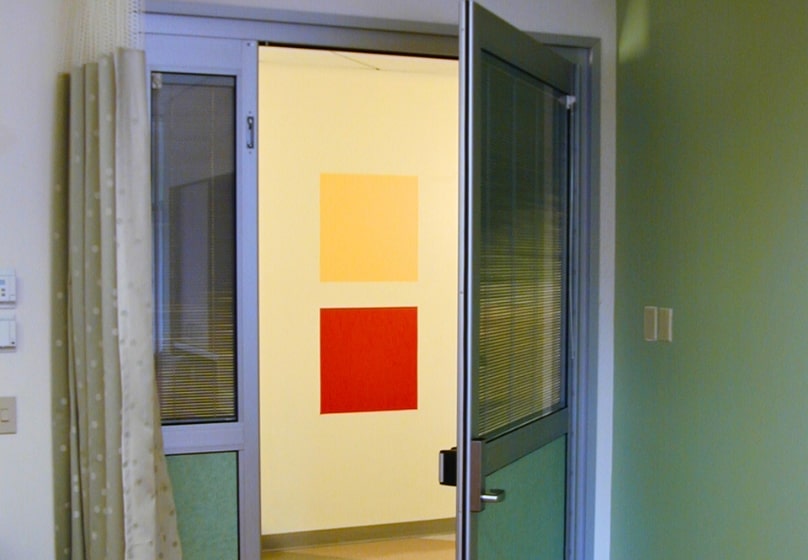 Healthcare Manual Swing ICU door by Door Services
Health care - Manual Swing ICU
Our Door Services Corporation team can help make a difference in the patient experience and hospital efficiency with the broadest selection of healthcare doors in the industry, We offer ICU doors and manual swing smoke rated door systems specifically designed to address the needs of the healthcare industry.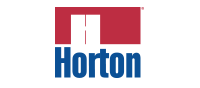 Text
Download brochure
In our product offerings, we have self-closing smoke-rated ICU/CCU door systems and airborne infection isolation room doors that require no power. Staff, as well as patients, appreciate design details such as Mini-Blind and Opaque glass for privacy, light control, and hygiene. Larger openings for moving beds and equipment are also possible with smoke-rated telescoping door systems.
Unlimited custom configurations are available for entryways, interior and exterior doorways and even drive-up convenience with pharmacy windows.
Our Commercial Door Services
Download: Preventative Maintenance Tips For Your Automatic Doors
Take these simple measures to ensure that your commercial and industrial doors run smoothly year round and function consistently.
What Our Clients Say
The service tech does an excellent job for us and lets us know how long parts will take and when he will be back.
Your technician went above and beyond. I appreciate your service and trying to help me put together some seals to buy from you guys from my doors and windows and waiting for a quote on that, but I can't thank you guys enough I've never had a problem with your technicians. It's a pleasure doing business with you and looking Forward in the future to do business with you thank you very much!
Facilities Manager
Service is always thorough and prompt. Joseph is a great technician, always communicates thoroughly about any issues.
Service Manager
Applications of Healthcare Manual ICU Swinging Doors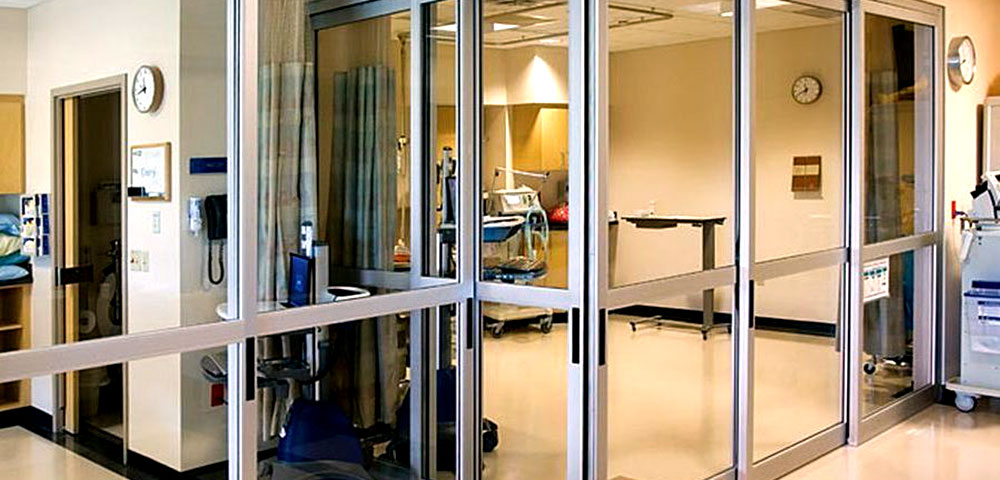 Hospital Doors
You can't afford the breakdown of a door in a medical facility, especially during a pandemic. From the hospital entrance doors to the individual hospital room door, each and every door needs to work flawlessly and around the clock.
If you are an architect or specifier, then click here for our "Door Systems for Health Care Guide".
Our certified technicians keep all your automatic doors in shape, from your revolving door entrances to swing doors, sliding and folding doors, and even automatic windows for dispensaries.
Door Services Corporation makes a difference in patient experience and hospital efficiency. Our AAADM certified technicians have extensive experience with any door in your clinic or healthcare facility. Their vans are stocked with door hardware, and they are ready for almost any repair to your sliding door, swinging door or any other automatic door. We offer
24-hour service
as well as
maintenance contracts
for regular maintenance of all doors in your medical facility regardless of the manufacturer.
Healthcare Doors by Horton Automatics
Hospitals and medical facilities have specialized access needs with the toughest building codes. Many openings require a fire door, and for some applications hermetic door closure is necessary. Of all hospital doors manufacturers, Horton offers the widest selection of healthcare doors in the industry.
As a Horton Automatics company, we are uniquely equipped for handling the installation, maintenance and repair of any automatic doors in your hospital. Our AAADM certified technicians also have extensive experience repairing doors of any other major brands in automatic doors.
Revolving Doors in Hospitals
Revolving doors are well-suited for anyone wanting to enter or leave a building. In a hospital, however, there are more factors that are important such as the right diameter and speed to accommodate wheelchairs, walkers and gurneys.

Horton Grand® and MiniGrand® revolving door systems are ideally suited to the requirements of health care facilities. They offer impressive architectural appeal, generous openings and the extra advantage of a constant seal for energy efficiency and LEED credits.
Healthcare Sliding Doors
Automatic doors are engineered to meet the 24/7 demands of medical facilities. Horton offers an industry leading range of sliding door entrance systems, all designed for ultimate dependability.

We service Horton Automatics doors as well as all other brands, and have access to all sliding door parts you may need, from elegant all-glass entrance systems to telescoping sliding doors.
Swinging and Folding Doors Door
Horton Automatics swing and folding door systems provide a full range of solutions for ADA compliant handicap door openers or high traffic automatic access. These systems come standard with AAADM certified installation.
Swing door operators can be installed at new construction or to upgrade an existing door. At Door Services Corporation we assist you with retrofitting an existing swing door, and with ongoing maintenance and repair
Folding doors are very versatile and provide a solution for very large openings as well as for narrow corridors that require wide openings in a narrow space.
We often install automatic swing door closers when an automatic door is not necessary, or when a manual hinged door is located next to an automatic door.
Specialty Operators may be used for extremely heavy doors such as lead-lined doors for an x-ray room or storage vault systems with fire protection
Patient Room Systems
Patient room door systems allow the option to leave doors completely or partially open without the need to break out the doors. These doors are ideal for optimum space utilization.

Door Services Corporation services a broad offering of automatic swing and sliding doors as well as manual barn door configurations for patient rooms, exam rooms and toilets.
Hospital Door Hardware
Hospital door hardware needs to withstand more wear and tear than in most other applications. There are also more requirements for doors in health care, such as fire protection, access with wheelchairs and hospital beds, access control etc.

At Door Services Corporation we carry quality commercial door hardware to maintain and repair all your doors and make sure they are reliable day and night, year-round.
Specialized Applications
Our team at Door Services Corporation has vast experience with hospital doors. [Call us] to address your specific needs, such as breakaway, self-closing, UL 1784 smoke infiltration, AIIR isolation, card access interface etc.
Pressure Rooms
Hospitals have air infiltration requirements for negative, positive and combination pressure isolation rooms. These can be used for an operating theatre and airborne isolation infection rooms

Horton Automatics offers solutions to address these needs. Doors can be activated with touchless sensors or hands-free door openers to avoid contamination. The alternative mechanical self-closing system requires no power.

Isolation room doors greatly reduce air leakage and include tested perimeter seals and self-closing devices. These systems are easy to clean and reduce the risk of nosocomial infections. They are available in electromechanical or no power self-closing.

Atmospheric Sliding Doors are designed to meet clean room standards. These doors are excellent for areas such as labs or pharmacies where ultra cleanliness is required.
Critical Care and Intensive Care Systems
In an ICU environment it is important that patients are always in full view through the glass door. When there is an urgency then the full breakaway feature allows for all panels to swing out of the way. The resulting large opening allows swift removal of patients or equipment.

We are proud to be part of the Horton Automatics family, which consistently develops first-to-market systems such as the self-closing smoke-rated ICU/IMU/CCU door systems and the first airborne infection isolation room door that requires no power.

Staff as well as patients appreciate design details such as Mini-Blind and Opaque glass for privacy, light control and hygiene. Larger openings for moving beds and equipment are also now possible with the smoke-rated telescoping door system.
Security Windows
Hospitals require security windows for drive-through pharmacies, labs, supply rooms and other secure interior areas. These windows can be equipped with transaction drawers, bullet resistant glass, a choice of counter tops and other custom features.

At Door Services Corporation we have extensive experience with the maintenance and repair of these drive-thru windows in healthcare.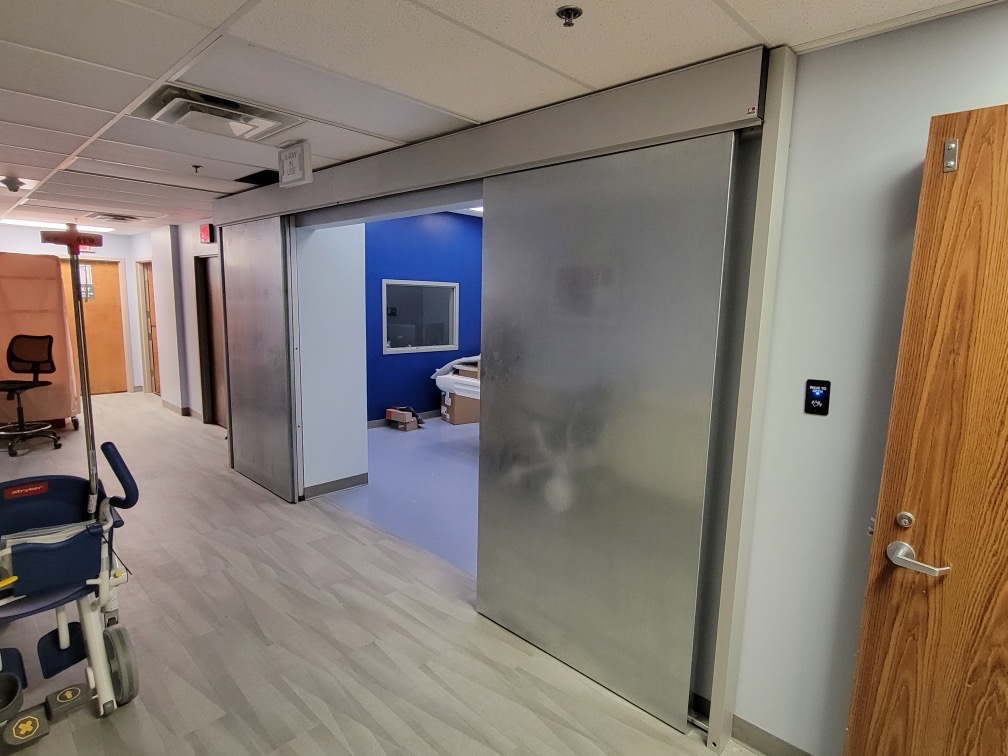 Industrial doors
Industrial Door Repair
Door Services Corporation offers professional, experienced support for your commercial doors. Our repair and maintenance team is highly qualified to get any job done correctly. We pride ourselves on our expertise when it comes to commercial door repairs.

We meet all safety standards and quality controls for industrial door systems. We take building codes and national standards seriously in the maintenance and repair of your industrial doors.
Sliding Door Systems
Door Services Corporation services sliding door systems in a variety of settings, including industrial and sterile.

Door Services Corporation maintains and repairs sliding doors in warehouses, biotech labs, food processing facilities, and almost any industrial setting you can think of.
RapidSlide
Horton's RapidSlide® industrial system is Ideal for very large openings in industrial settings. Lightweight Thermacore® insulated sectional steel door assembly has 24″ (610 mm) modular sections as required to fit your opening. The panel is metal/foam/metal sandwich panel construction with exterior aluminum framing channels.
HD-Slide Industrial with Flush Steel Panel
Surface applied industrial package for large openings. The heavy duty panel has 18 gauge galvanized steel skins with Kraft honeycomb core. The panel has a flush appearance with no exposed fasteners. These industrial systems are Standard Surface Mounted Packages with Floor Mounted Guides. Total weight limit per panel to be 500 lbs (227 kg) for single slide and 300 lbs (136 kg) for bi-parting unit. Please consult with us for other available door types or for doors weighing in excess of 500 lbs.

RapidSlide® Thermacore Panel
Platform Screen Doors
Door Services Corporation services platform screen doors in public and private transit applications. These are often implemented in:
Airports
Hotels and Resorts
Theme Parks
Transit Hubs
Service Windows
Service on automatic and manual service windows round out the complete industrial and commercial door service packages offered by Door Services Corporation.

Restaurants, pharmacies, banks and other businesses are often offering drive-thru windows for their patrons. Door Services Corporation provides maintenance and repair services for drive-thru windows of all brands, including the high quality offerings of Horton Automatics.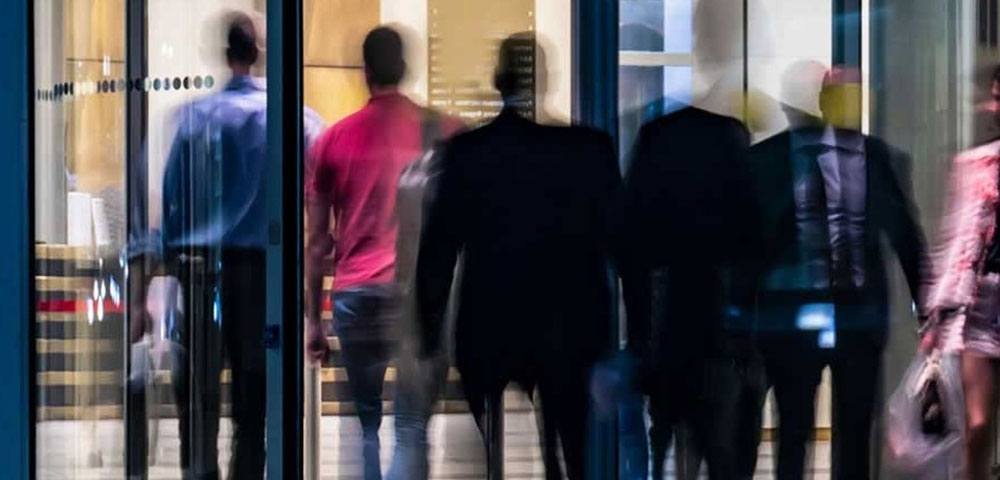 Hospitality Doors
Beautiful and Functional Automatic Hospitality Doors
First impressions are everything when it comes to running a business. This is especially true in the hospitality industry. The doors to your building make the first impression, and Door Services Corporation ensures the best guest experience from the moment they reach your entrance.
We provide solutions for any opening or space that will impress your patrons while offering a practical, reliable door. You can expect our doors to meet both your guests' needs and your own requirements, including safety, security, dependability, and beauty.
Door Services Corporation has the hardware and doors for practically every application in the hotel industry. The doors are attractive and secure and will please hotel management with total cost of operation.

Why Door Services Corporation for your Hospitality Doors?
Door Services Corporation uses automated door systems by Horton that are unmatched in value, design, and safety.
Pleasing Aesthetics Horton door systems may be specified with custom finishes in a wide range of colors and wood grains with superior durability and color retention.
User Friendly Easy hands-free operation helps patrons with luggage or baby strollers, and makes deliveries efficient and fast.
Low Cost of Operation Our robust door design stands up to the highest traffic conditions at low maintenance costs. Strong weather seals lead to substantial energy savings.
Virus Prevention Harmful viruses can be spread by touching contaminated door handles. Automatic Doors keep your guests healthy!
Revolving Doors for Hotel Entrances
At Door Services Corporation we install, maintain and repair several automatic,
revolving door systems
that are perfect for any space that would benefit from the grandeur and improved traffic flow of a revolving door. Our doors can handle any amount of traffic and provide energy-efficient operation.
There are different models of automatic revolving doors and manual revolving doors, which can be installed with a center shaft or center core vestibule design.
We also offer Security Revolving Door Systems including options such as bullet-resistant glass and tailgating prevention.
Automatic Sliding Doors
Door Services Corporation offers a wide variety of
sliding door systems
in hotels and restaurants. We allow no compromises to quality and usability in the construction, installation and maintenance of our sliding doors, to make sure that your opening will retain its beauty and operate flawlessly in service of your patrons.
Automatic Swing Doors
We provide a full range of
automatic swing door systems
for your establishment, with adjustable opening and closing speeds, obstruction sensing, Push-N-Go activation and other usability and safety features.
Our doors are available as single, pair or double doors with a choice of in-swing or out-swing and left- or right-handed operation. They are offered as Manual, ADA Low Energy and Full Power swing doors.
Finally, they can be offered as Fire Doors and installed as part of your overall fire protection plan.
Access Control Systems
Our hospitality door offering integrates well with a large variety of access control systems. This allows us to provide a complete service offering including:
Electronic locking systems
Mobile key solutions
Hotel room door locking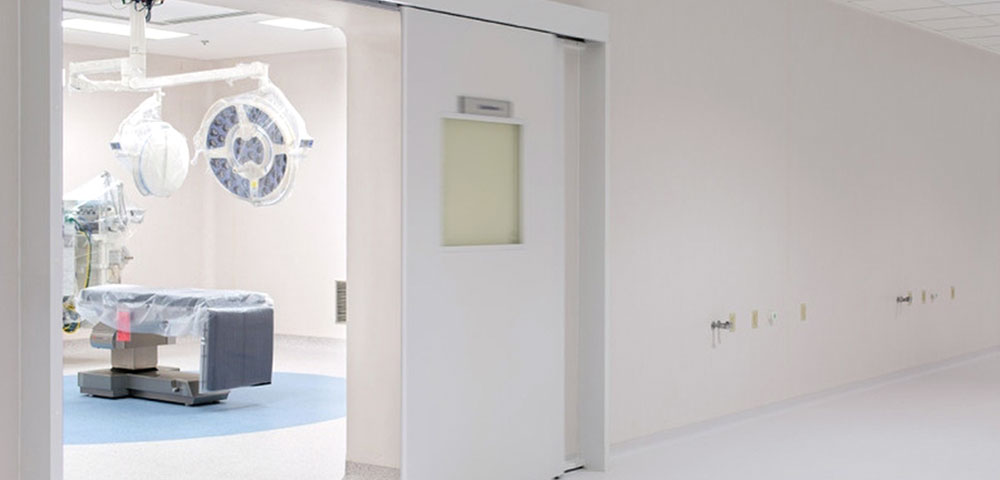 Cleanroom Doors
Controlling the spread of germs is very important in any medical setting. To minimize the risk of contaminants and airborne particles, hospitals and clinics need cleanroom doors with airtight seals that open and close at high speed without having to touch the door. Reliable doors play a critical role in the protection of your patients, your healthcare professionals and your visitors.

Door Services Corporation is a leader in the specialty doors and cleanroom doors market. We offer medical automatic sliding doors in a range of configurations. All our doors meet stringent medical-application requirements and can be applied in the most demanding environments, e.g. self-closing smoke-rated ICU doors and airborne infection isolation room doors that don't require power.

These doors are not only for medical facilities but for any controlled environment such as the chemical, pharmaceutical, and micro-electronics industries.
Features of Cleanroom Doors
Clean room doors by Horton Automatics are specially designed for the critical care environment of ICUs. The Horton automatic sliding clean room door comes in two-and three-panel configurations with a trackless design for better mobility and hygiene. All are available as manual and self-closing automatic doors.

Patients are in full view when the doors are closed, and the full breakaway option of the panels allows you to move patients efficiently.

The Horton UltraClean Sterile door is a high performance door for very low particulate applications such as food preparation facilities and includes flush stainless steel panels.
Frequently Asked Questions
Door Services Corporation services and repairs all makes and models of automatics entrances.
Door Services Corporation provides rapid service with our goal being 24 hour response time.
All of our technicians are AAADM certified, all technicians carry their AAADM cards with them.
We service Horton Automatics, Stanley, Assa Abloy, dormakaba, Boon Edam, Crane and MobilFlex. If you have a different brand then please reach out and we'll find a way to assist you.
At Door Services Corporation, we service your doors. Call on our Automatic Door Enterprise branch for door installations, (215) 361-3300.