How to Prepare Your Automatic Doors to Withstand a Harsh Winter
December 12, 2022
Do you need to weatherproof your automatic commercial doors this winter? Here's everything you need to know!
How to Prepare Your Commercial Doors to Withstand Winter
Many considerations go into preparing commercial doors to withstand heavy winter weather. On top of the conventional checks – inspecting for loose parts or physical damage – you must do the following:
Check the weatherstrip. This is a door seal that helps prevent the cold from getting in. This increases the energy efficiency of your existing door, so it is definitely a good idea to do for you and your commercial building space.
Conduct regular preventative maintenance – including cleaning! Various kinds of wintry debris can build up outside of your commercial door, so routine inspections and cleaning are key.
On top of your preventative maintenance, schedule a professional inspection. Do this to prevent minor problems from becoming major issues with your door in the future.
How Does Colder Weather Affect Automatic Doors?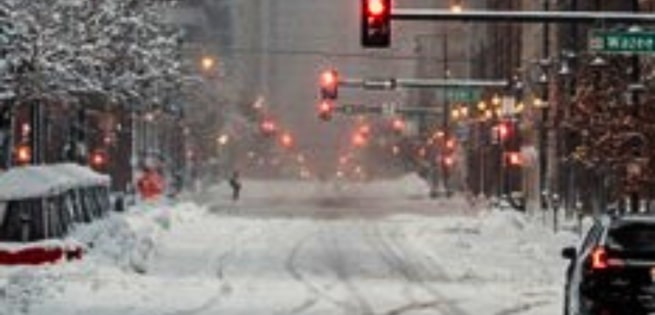 Snow, sleet, and ice are all potential hazards that can impact how your automatic sliding door functions. In addition, too much grease can cause misalignment in your automatic door system, leading to more physical damage to the whole system. Therefore, you should find the right amount of lubrication for your particular winter conditions. This will take professional help, so feel free to call us
here at Door Services Corporation
for expert assistance with your automatic door system during winter weather.
Tips for Clearing Snow and Ice around Your Door
Snow is fun, but it's also hazardous for your automatic commercial doors. It can contain debris from the ground, including sticks and leaves, which can damage the door's integrity, reduce energy efficiency, and harm your door in other problematic ways.
Ice is perhaps the most perilous problem for your door, as it can misalign the door and even age it prematurely.
To clear snow and ice around your door, you can talk to your local snow removal service; shovel the snow with your own tools (or use a snowblower); and, when the snow melts, get mats, pumps, and other heat sources.
What to Check On Your Doors in Cold Temperatures
Weather strip on your automatic door can help winterize the door.
Weatherstripping keeps cold air and moisture out of your space. Weatherstrips come in various materials, including vinyl, felt, foam, metal, or rubber. Not only do weatherstrips prevent the above mentioned, but they also prevent light from getting in – and light is a heat source, which can reduce the door's energy efficiency by creating a misaligned temperature differential. Our technicians carry different types of weatherstripping, and anything they don't have on them, we can order. This includes nosing, door sweeps, thermal brush, and more.
Weatherstripping is a door service that we offer, and it is generally a low-cost installation process. It saves energy, which is suitable for your door, your bill, and the planet. Weatherstripping also adds aesthetic value to your door. The weather tight seal will help maintain a clean and neat look for your door.
Weatherproofing Your Commercial Door
We've detailed some key points to consider so you can weatherproof your door, but let's explore some options you may not have considered.
On top of weatherstripping, and routine personal and professional inspections, you can also use other commercial door services to weatherproof your commercial
sliding doors
, automatic
swinging doors
,
revolving doors
, and more. These services include installing a door sweep, tightening or resetting hinges, as well as a myriad of other things to repair or upkeep your doors.
Why You Should Winterize Your Commercial Door
The most important reason to winterize your commercial door is to preserve its physical and structural integrity for maximum longevity. Maintaining an effective commercial door is an extensive investment, and by winterizing your door, you prevent minor problems on your commercial property from becoming major ones or major ones from becoming damaging ones. Know that you can hire Door Services Corporation (a
Horton Automatics
company) to perform the services you need to winterize your door.
How Winter Weather Affects an Insulated Commercial Door
Once you've winterized your commercial door – you can rest easy knowing that your automatic doors are ready for the winter weather!
Final Thoughts
At Door Services Corporation, we have experience providing premium commercial door services, parts, and expertise. These details on the effects of winter weather on commercial
sliding doors
– including automatic folding doors or automatic
swinging doors
– should prepare you for the harshest winters.
The best thing you can do to keep the doors running smoothly all winter is to keep them clean, free of snow and ice and any debris, and be careful that any mats placed near the doors are kept clear of the doors and are also kept clean. One of the most common things we see is salt jamming the doors – sliding and swinging. Ice and snow are other big culprits of doors not working.
Feel free to contact our experienced technicians with any questions and
book us
for a service today to take care of all your automatic door needs.
Categories
Recent Articles
How to Prepare Your Automatic Doors to Withstand a Harsh Winter