How Can Your Business Take Advantage of Drive-Thru Windows?
February 15, 2023
Should your business install a drive-thru window? Take a look at the variety of benefits and then decide for yourself.
With everyone being on the go 24/7, convenience is a top priority. Having easy, quick, and convenient access to everything is essential. The faster and easier it is to get your packages or products, the better it is for customers and the company.
One of the ways businesses can increase traffic to their facilities while making it easier than ever for customers to get their products is by installing a
drive-thru window
. Drive-thrus are typically found at fast food, banking and pharmaceutical locations but are also becoming more popular in other B2C businesses. Today you can find ice cream shops, party stores, dry cleaners, hi-end restaurants and even some hardware stores using this technology.
Drive-thru services may be limited only by a business owner's creativity. In this article, '
Drive-Thru Window Not Just Fast Food
', churches and even funeral parlors are also mentioned!
How a Drive-Thru Ordering System Can Benefit Your Restaurant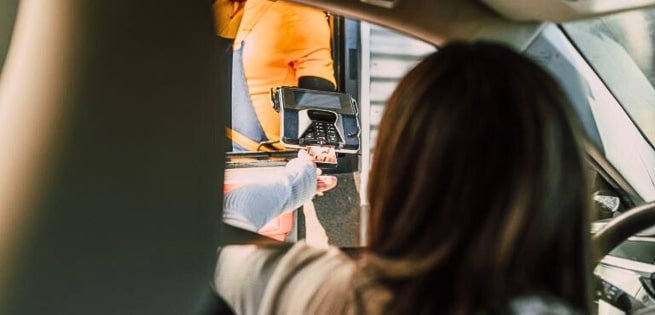 Installing a drive-thru window can benefit your restaurant or any other business in many ways. They are easier for the customer, more efficient for your business, reduce wait time, and can increase traffic and sales.
According to a
Bluedot report
in the summer of 2020, the pandemic has increased the number of times Americans visit drive-thrus, with three out of four people admitting to using them as often or more than before COVID-19.
With an influx of customers looking for this ease of use with a feeling of safety and security, it is beneficial to businesses to
offer this service
.
Drive-Thru Windows Are Convenient for Customers
Customer convenience is critical when operating a successful business. Whether running a fast-food chain or a pharmacy dispensing medication, quick and convenient services make the customer's life more manageable.
A
study conducted by QSR magazine
shows that customers will spend (on average) 225 seconds in a drive-thru line, navigating from the speaker to the pickup window.
The nearly 3 ½ minutes of waiting in your vehicle to grab a bite to eat is much quicker than going into a restaurant, ordering your meal, and eating it at the table.
It is also easier for those with disabilities, coming off of a long shift, or with a carload of kids to drive through to get their food rather than attempting to enter the building.
Drive-Thru Windows Increase Efficiency for Businesses
Today, 43% more customers choose to get their food from drive-thru windows, a significant increase from days pre-pandemic.
With such an influx in drive-thru customers, it is evident that installing drive-thru windows in any establishment can attract new customers and keep them coming back.
Installing drive-thru windows can also relieve pressure on employees working the inside register, allowing them to attend to each set of customers in more manageable settings.
Drive-Thru Windows Reduce Wait Times for Customers
The same study conducted by
QRS Magazine stated that
88% of customers say that speed is one of the most important factors when using
drive-thru windows
.
Ensuring your customers are satisfied in every way possible will also ensure your business is successful.
What Are the Important Features of a Drive-Thru Ordering System?
With all of the advantages of a drive-thru ordering system, installing one at your restaurant or other business would be highly beneficial.
There are many essential features to consider before ordering this product for your facility to ensure you get the most out of it.
Security and Safety Features
Quality
drive-thru windows
are also essential when it comes to safety. If you decide to add one to your facility, you want to make sure it is designed with top-quality security features such as:
Automatic locks
Bullet-resistant windows
Self-closing mechanism
While auto doors are extremely convenient, they can also come with added exposure to the outside world. Having a safe set of windows, especially for late night hours, can help ensure that you, your employees, and your customers can stay safe.
Quality Set Up
Order accuracy was the number one important feature customers voted on regarding drive-thru services. About 89% of survey respondents said that the accuracy of their order was somewhat or most important when it came to having a positive experience.
To ensure your customers are satisfied, you want to ensure that your drive-thru windows are available and easy to use. Ease of use should include accessibility, functionality, and safety.
Customized for Added Experience
Customizing your drive-thru windows with upgraded features can add benefits to an already optimal experience. With many quality window companies, you can request additional features, such as
Various countertops
Sneeze guards
Single or bi-parting configurations
Deal trays
And more
Another way you can customize your setup to increase customer satisfaction is by adding an additional lane to your facility. According to
ux.stackexchange.com
, a second lane can prevent the loss of customers by 50%.
Additional customer service is convenient and can reduce time spent waiting in line.
Should You Get a Drive-Thru Window for Your Business?
If you are interested in improving customer experience while making business quicker and more efficient,
installing the right set of drive-thru windows
could be one of the best decisions you ever make.
Categories
Recent Articles
How Can Your Business Take Advantage of Drive-Thru Windows?