Making an Entrance on Automatic Door Day
March 01, 2023
On March 19th, we celebrate the automatic door, a life-changing product that doesn't get nearly as much attention as it should.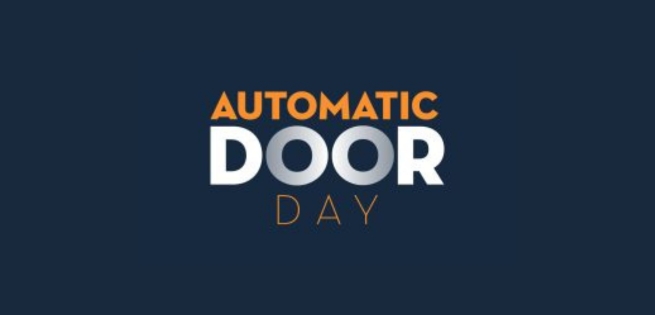 Automatic doors have made everyday tasks much easier and safer to tackle, especially for those with full hands, who are wheelchair-reliant, have physical ailments, etc. However, it doesn't seem these door systems get the recognition they so rightfully deserve.

For this reason, the American Association of Automatic Door Manufacturers (AAADM) began celebrating automatic doors on March 19, 2019, and every year after.
The Impact of Automatic Doors Over the Years
According to research, nearly 98% of customers said they would prefer automatic doors installed in every public building they visited. Why? Because of all the great benefits these systems offer.

Our team at Door Services Corporation is confident any business that upgrades its manual doors to automatic ones will notice and benefit from that decision. How?

Improved and Adaptable Access to Public Buildings
Thanks to automatic door technology, everyone can enter and exit public buildings such as doctors' offices and retail stores with ease. Unlike manual doors, you can open and close automatic commercial doors regardless of physical condition or disability.
Touch-Free Entrances and Exits
Since the COVID-19 pandemic, touch-free devices have become essential, especially in commercial locations such as hospitals, airports, malls, etc. Automatic doors provide safe access to these public spaces, eliminating the need to touch storefront door handles.
Cost Efficient
Automatic door openers in commercial settings can save tons of money over time. These devices are known to save on utility bills from heating to air conditioning.
Along with saving money on your monthly bills, you will also save over time with long-lasting, low-maintenance doors compared to manual options that bang and slam hundreds of times a day.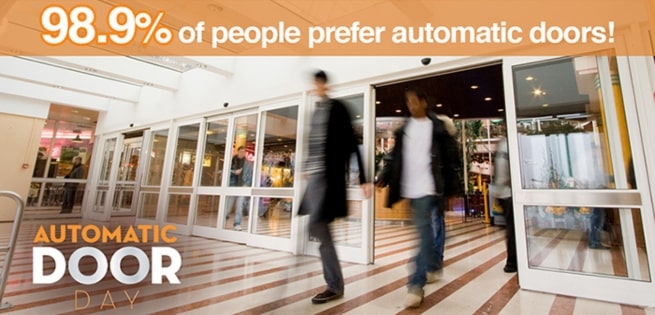 How to Celebrate Automatic Door Day
Now that you understand why
automatic doors should be celebrated
, let's investigate a few different ways you can participate in giving credit where credit is due.
Installing Automatic Doors at Your Business
Increase accessibility and efficiency in your company by contacting a quality automatic door company and discussing the best options for your space. There are a wide variety of automatic doors available, including:
Revolving doors
Folding doors
Swinging doors
Sliding doors
Platform screen doors
Automatic door systems can be installed in various spaces, from the smallest entrances to wide-open areas, providing customized solutions for everyone.
As automatic door professionals, we are happy to offer consultations to all companies interested in commercial door installation or answering any questions you might have regarding the products or process.
Maintain Your Current Automatic Door Systems
Door Services Corporation offers expert
commercial door repairs
for existing automatic doors, whether you have an automatic swing door opener or automatic sliding door.
What better way to show appreciation for a product that keeps your customers safe and satisfied than by offering annual inspections, preventative maintenance, frequent checkups, and commercial door repair service as needed?
Spread the Word
The best way to support automatic commercial doors is to spread the word. Let your friends, family, and acquaintances know about all of the benefits these automatic systems can offer their facilities. Whether they need an automatic door opener for a commercial building or an entire system installation, Contact us at
Door Services Corporation
today.
Categories
Recent Articles
Making an Entrance on Automatic Door Day