Door Services Corporation, Sales Representative Provides Fire Door Safety Training for Team of Service Technicians
July 18, 2022
Nicole Casa, CFDAI, DSI, provides the first 'in-house' Fire \Door Safety Technician Training for 14 of Door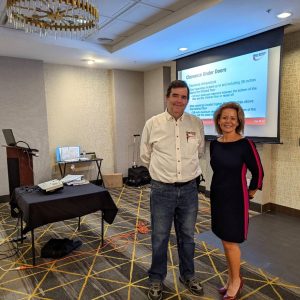 Services Corporation's service technicians.
Fourteen technicians from various Door Service branch locations include: Advanced Door Service, Eastern Door Service, Allegheny Door Enterprises, Keystone Automatic Door Enterprises and Advanced Door Automation.
"I am excited to have this opportunity to teach our experienced team of door service technicians about fire door safety and fire door inspections. It has been great seeing how interactive they are during the training with asking lots of questions and talking about applications that will help them in their day-to-day jobs. They really understand how important their roles are in protecting building occupants."
Co-teaching with Nicole is Keith Pardoe, the NFPA80 Chairman. Keith is Founder & CEO of Door Safety, LLC.
Keith's career in the door industry spans more than 37 years. In 2017, Keith founded Door Safety, LLC, to provide training and information to end users regarding inspecting and maintaining swinging egress and fire doors.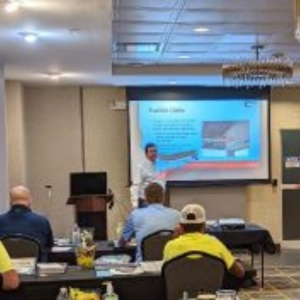 The course focuses on educating the technicians on how to perform NFPA 80's door safety inspections. Each tech will leave the training with working knowledge of fire door inspections as well as the code requirements that affect them. Learning how to read and interpret the fire codes and standards will be an essential part of the training.
Technicians also learn what to do to inspect and test openings for compliance, maintenance and mitigation practices and procedures and more.
Keith's advice for the technicians,
"Take the time to learn everything you can about egress and fire doors, especially the provisions and requirements of the building, fire and life safety codes – past and present – and the standards that affect them. Remember fire doors have one job, preventing a fire from spreading! What we do matters."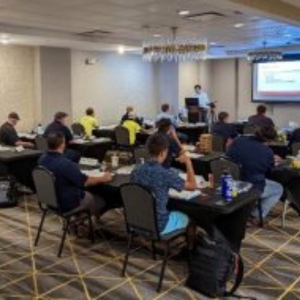 Located in the Northeast? Our team of technicians can inspect fire doors in New Jersey, Delaware, Pennsylvania, and Virginia. Give us a call at 800-492-2392 or
fill out this contact
form and we will get back to you within the same or next business day.
Media Contact: Krista Rivers, Marketing Specialist /
marketingds@overheaddoor.com
— — — — — — — — — —
ABOUT DOOR SERVICES CORPORATION
Your expert partner for pedestrian door service and installation, our company was built on quality products and long-term customer partnerships. We are a member of the American Association of Automatic Door Manufacturers. Our AAADM certified technicians have over 50 years of product knowledge. We service and repair all doors and windows models of all automatic door manufacturers. In the Northeast, we also provide manual door service and fire door inspections.
24/7 emergency service is available to meet your after hour needs in our designated coverage areas:
Advanced Door Automation – North Carolina and east to the coastal regions
Advanced Door Service – Eastern Pennsylvania, Baltimore, DC, Virginia and Northern Georgia
Keystone Automatic Door Enterprises- Northern Pennsylvania
Allegheny Door Enterprises- Western Pennsylvania and West Virginia
Automatic Door Enterprises- Eastern Pennsylvania
Del-Mar Door Service – Delaware
Door Controls – Louisiana
Eastern Door Service- New Jersey
Texas Access Controls- Dallas, Houston, Austin and Corpus Christi, Texas areas
Horton Automatics of Ontario- Ottawa Valley and Southern Ontario, Canada