Door Services Corporation Launches All-New Website Showcasing Unified Branding and Extensive Automatic Door Expertise
October 12, 2023
Door Services Corporation is thrilled to unveil its brand new website, www.doorservicescorporation.com, which marks a significant milestone in the company's journey.

Door Services is a Horton Automatics Company owned by Overhead Door Corporation. Within Door Services there are currently 12 unique brands/branch locations, all of which have their own coverage areas:
Advanced Door Service - Eastern Pennsylvania, Baltimore, DC, Virginia and Northern Georgia
Advanced Door Automation - North Carolina and east to the coastal regions
Keystone Automatic Door Enterprises - Northern Pennsylvania
Allegheny Door Enterprises - Western Pennsylvania and West Virginia
Automatic Door Enterprises - Eastern Pennsylvania
Del-Mar Door Service - Delaware
Door Controls – Louisiana
Door Control, Inc – Maine, New Hampshire, Vermont and Northeast New York
Door Concepts, Inc – Rhode Island and Eastern Massachusetts
Eastern Door Service - New Jersey
Texas Access Controls - Dallas, Houston, Austin and Corpus Christi, Texas areas
Horton Automatics of Ontario - Ottawa Valley and Southern Ontario, Canada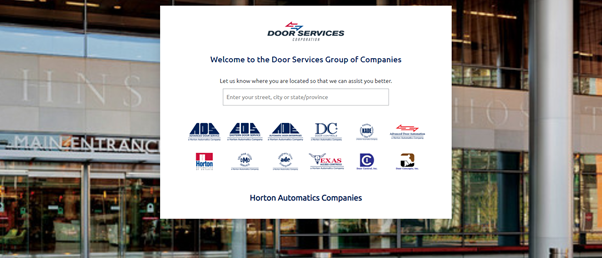 The new website eliminates the need to have 12 different websites and brings together all of the branch locations that the company has strived for, for many years. One single website provides a primary online platform for all existing and prospective clients. It will also help to establish a stronger online presence and enhance brand reputation for the commercial automatic door installation and repair business.

The new website not only features a fresh and cohesive brand identity, bringing together all existing brands under one digital roof, but also serves as a robust knowledge hub for everything related to automatic door.

"Seeing this comprehensive website come to fruition is an exciting moment for us," expressed Krista Rivers, Marketing Manager at Door Services Corporation. "Previously, each of our Door Services companies had their own separate website, leading to a lack of unity in our branding and creating major inefficiencies in developing content and marketing strategies. With the launch of this new site, we aim to bridge that gap while illustrating our extensive coverage areas and wealth of automatic door expertise. We are able to provide more robust content in the form of application pages, product detail, blogs and even customer testimonials."
One of the highlights of the new website is its comprehensive knowledge base dedicated to automatic doors. With an extensive repository of blogs, press releases, application pages and other resources, the website serves as an invaluable source of information for industry professionals, customers, and prospects. Whether it's looking for the right automatic door installation or finding practical maintenance tips, the content caters to construction managers and facility managers alike.
"We're proud to showcase not only our unified branding but also our dedication to providing meaningful content," Krista Rivers emphasized. "The application demonstrates how our automatic door solutions enhance convenience, accessibility, and safety across various industries. The product details offer an in-depth look at our offerings and the major brands we represent (Horton Automatics, Won-Door, FLEX by Horton). Our customer testimonials give voice to the positive impact we've had on our clients' businesses."

Visitors are encouraged to explore the new website and take advantage of its wealth of information at www.doorservicescorporation.com.
For media inquiries, contact: Krista Rivers, Marketing Manager, info@doorservicescorporation.com.
_ _ _ _ _ _ _ _ _ _ _ _ _

ABOUT
DOOR SERVICES CORPORATION
Your expert partner for pedestrian door service and installation, our company was built on quality products and long-term customer partnerships. We are a member of the American Association of Automatic Door Manufacturers. Our AAADM certified technicians have over 50 years of product knowledge. We service and repair all doors and windows models of all automatic door manufacturers.
24/7 emergency service is available to meet your after hour needs in designated coverage areas:
Advanced Door Service - Eastern Pennsylvania, Baltimore, DC, Virginia and Northern Georgia
Advanced Door Automation - North Carolina and east to the coastal regions
Keystone Automatic Door Enterprises - Northern Pennsylvania
Allegheny Door Enterprises - Western Pennsylvania and West Virginia
Automatic Door Enterprises - Eastern Pennsylvania
Del-Mar Door Service - Delaware
Door Controls – Louisiana
Door Control, Inc – Maine, New Hampshire, Vermont and Northeast New York
Door Concepts, Inc – Rhode Island and Eastern Massachusetts
Eastern Door Service - New Jersey
Texas Access Controls - Dallas, Houston, Austin and Corpus Christi, Texas areas
Horton Automatics of Ontario - Ottawa Valley and Southern Ontario, Canada