No Number of Automatic Doors is Too Big or Too Small for a Preventative Maintenance Contract
March 02, 2022
1 Door? 55+ doors? No Problem. Preventive Maintenance Plans Can Accommodate All Sized Facilities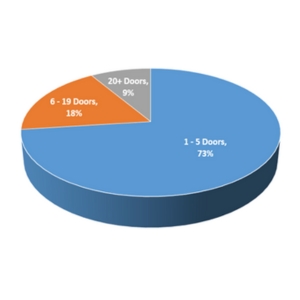 Your facility only has 1 door, so it wouldn't be worth signing up for an automatic door
preventative maintenance contract
with certified AAADM technicians. This is a common misconception.
You would probably be surprised to know that 47% of our Preventive Maintenance Contract customers only have 1 or 2 doors!
When we say no job is too big or too small, it is because we have the capability and the staff to deliver both. The facilities that have only a few doors, our technicians carry the spare parts on the truck to fix necessary issues. On the flip side, for facilities with several doors, we have a large number of AAADM certified technicians and often have more than one tech on site to complete the inspections.
This will sound cliché, but it is true, 'Proof is in the Pudding!' Just ask our customers:
"I like when I call in the early morning and often, they come out the same day! I also appreciate that the service technician checks in with me, they know where my office is. Then, right before they leave, they email me the service report which is very helpful."

~ Large Pennsylvania hospital / Facilities Operations Assistant / 86 Doors!
"We have had a service contract for more than six years and have only one door. If your doors go out, especially for a small business, you are in big trouble. Most small businesses don't have the staff available to fix it, so with our service agreement we know our doors are taken care of. Even with something small, we call you and most times you are here in the same day and it didn't even cost us anything!"

~ Pennsauken Library, New Jersey / Admin, Maureen Parente / 1 Door
Freehold Township Senior Center has had a service contract with Eastern Door Service for 12+ years with only 1 door. We asked Cathy Johnston, Senior Center Director what she would say to a customer considering a service contract on their
automatic doors,
"It offers peace of mind. Our doors are used all day long. We appreciate the immediate service we receive when we have a problem with our doors."
Preventive maintenance programs are such an important part of keeping your doors in working order and simply give you peace of mind, giving you one less thing to worry about in your facility.
Call on us
to be your trusted source for automatic door inspections.

Avoid Costly Repairs On Your Automatic Doors
Unplanned downtime is costly for all businesses, no matter the size. A preventative maintenance program helps avoid costly service calls for automatic door(s) and keeps them operational. The advantages a program offers:
Limit the need for door repairs.
Increased workplace safety.
Locked in labor rates over the life of your contract.
Reduce the impact of risk audits and ensure you remain within local code compliance.
Control expenses and eliminate emergency services.
IF emergencies do arise, your preventative maintenance program will move you to the front of the line and provide discounted labor rates with technicians on call 24/7.
Another misconception is that over time contracts can become costly, but in fact the opposite is true. We asked ourselves how much some of our most active customers spent on service and labor hours with and without a contract. When we compiled invoice and project data to calculate spending, our findings show that our annual service contract customers are saving at least 25% or more over the life of their doors.
You can
read more
on this study
here
.

Trust Certified AAADM Technicians
Each of our branches offer
Preventative Maintenance Programs
that provide 2 maintenance checks per year by a certified AAADM (American Association of Automatic Door Manufacturers) technician. They will regularly inspect the commercial and pedestrian doors in your building.
You can rely in our team of technicians to be able to inspect all makes and models of automatic doors and parts. These include but are not limited to Horton, Stanley, Assa Abloy, Besam Automatic Doors, operators, swing parts, Dorma, Gildor, Tormax and others.
One of these checks ensures that your doors are operating in compliance with relevant ANSI standards. The other check is an operational effectiveness inspection. There are different plans offered that are designed to meet the specific needs of your business. They make sure that your automatic doors function at optimal operating standards. Some of the components that are checked are sensors, guide rails and lubricants.

Automatic Door Preventative Maintenance Contracts Work!
Being amidst health hazards that could possibly go wrong with automatic doors, we may be bias, but our team of Service Managers and technicians feel getting your doors inspected are just as important as getting your car inspected! If you want to keep your car on the road, it is required that you get a yearly inspection – it keeps you and other drivers safe. In the long run, keeping up with preventative care can end up saving you on large repair bills. Same goes for the technology behind an automatic door. Whether you have 1 door or 100 doors, they need to be inspected regularly to keep your customers, employees and/or students safe and reduce the risk of larger maintenance/repair bills later!
Media Contact: Krista Rivers, Marketing Specialist /marketingds@overheaddoor.com