Reduce the Impact of Fire In Your Facility with Fire Door Inspections
November 03, 2022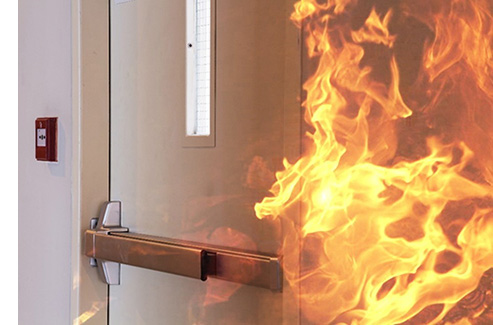 According to the newly released report by NFPA, "
Fire Loss in the United States in 2021
", there were 125,500 non-residential fires in 2021 and $3.6M in property loss. Think about that for a second. 125,500 fires. This is a 4% increase from 2020 and deaths rose 30%.
With December just about here, the official first day of winter is right around the corner. As the cold weather continues to quickly approach, we can't help but think about all the potential fire risks that increase during this season.
Winter is peak season for heating-related structure fires due to the increased use of heating equipment. Since colder temperatures result in longer operating time, there is more opportunity for that equipment to cause a fire. Unfortunately, winter conditions can also cause problems for firefighters responding to a call. Snowy and icy conditions only add to the difficulty of fighting a fire. Not to mention, frozen fire hydrants and water lines can further prolong their firefighting efforts.
Regardless of whether your facility is a healthcare, industrial, educational, or commercial building, it is crucial to make sure your
fire doors
and fire protection systems are up-to-date and properly working.
Door Services Corporation strictly follow the NFPA 80 guidelines for fire doors. Our inspection experts will inspect both sides of your door to assess the overall condition and assembly of each opening, recording findings for future repair and reporting. Door Services Corporation will inform your facility team on factors that have the greatest risk of future failure due to high frequency use or risk of damage during normal operation.
———-
Source:
https://www.nfpa.org/~/media/fd0144a044c84fc5baf90c05c04890b7.ashx
———-
ABOUT DOOR SERVICES CORPORATION
Your expert partner for pedestrian door service and installation, our company was built on quality products and long-term customer partnerships. We are a member of the American Association of Automatic Door Manufacturers. Our AAADM certified technicians have over 50 years of product knowledge. We service and repair all doors and windows models of all automatic door manufacturers.
24/7 emergency service is available to meet your after hour needs in our designated coverage areas:
Advanced Door Automation – North Carolina and east to the coastal regions
Advanced Door Service – Eastern Pennsylvania, Baltimore, DC, Virginia and Northern Georgia
Keystone Automatic Door Enterprises– Northern Pennsylvania
Allegheny Door Enterprises– Western Pennsylvania and West Virginia
Automatic Door Enterprises – Eastern Pennsylvania
Del-Mar Door Service – Delaware
Door Controls – Louisiana
Eastern Door Service– New Jersey
Texas Access Controls– Dallas, Houston, Austin and Corpus Christi, Texas areas
Horton Automatics of Ontario– Ottawa Valley and Southern Ontario, Canada