Why You Should Install Automatic Handicap Doors for Your Business to Ensure Compliance
January 26, 2023
Handicap doors allow disabled people to get into your property more easily. They add a level of equality to all buildings accessible by the public. Since 13% of Americans are considered disabled, it makes sense for buildings to have accessible entrances such as automatic handicap doors and doors accessible via a handicap door button.
While it isn't considered a requirement to install automatic handicap doors, it certainly makes meeting accessibility standards easier. There are so many ways that automatic handicap doors help businesses. To name just a few, they make it simple for you to ensure you never have to worry about keeping your door propped open, keeping your hand on the handicap door button, or constantly scanning for folks in wheelchairs or on crutches who need to be let in. In a large brick-and-mortar establishment, automatic handicap doors are a must-have.
What Exactly Is an Automatic Door Opener?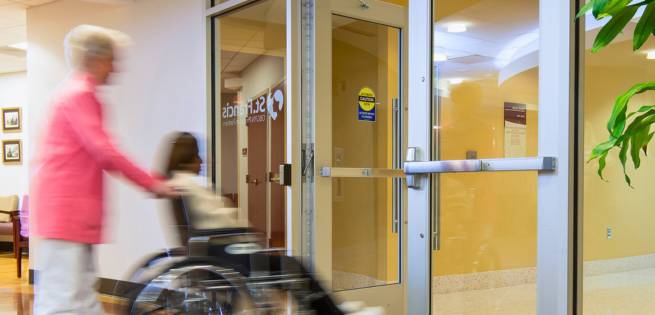 Automatic doors work thanks to a complex series of gears and mechanisms. While some automatic doors are controlled via an easy access control system, most modern automatic doors use a camera or motion sensor that detects when someone has come up to them. This sends a signal to a number of driving devices that will open the door. The door opener is what makes automatic handicapped doors such a desirable commodity for businesses.
Which Buildings Are Required to Comply with Accessibility Standards?
You might wonder whether or not your business must follow accessibility standards. Usually, it's better to be safe than sorry, which is why so many modern facilities have automatic handicap doors and
automatic door openers
installed by default for their commercial door(s). However, there are a few main categorizations of properties that should consider installing a handicap door. These include:
Commercial facilities
Places of public accommodation
Buildings involved in state & local government
Generally speaking, if you're a property that could be considered open to the public, then an
automatic handicap door
wouldn't be a bad idea. While each state has different specifications to pay attention to, there are a few general rules for new businesses to follow. For example, at least 60% of accessible entrances in newly built buildings that fall into the above categories need to have a door accessible to mobile-impaired people and folks in wheelchairs.
What Types of Doors Are Required to Comply with Accessibility Standards?
According to the ADA, at least 60% of doors that are accessible by the public need to comply with accessibility standards. Businesses should remember that while a door might be automatic, if it's elevated and there is no ramp available to folks with mobility impairments, then it won't be considered accessible. There should also be a ramp from the parking lot up to the sidewalk if there is any curb adjacent to an entrance.
A truly compliant automatic handicap door will use an electronic door operator and a range of sensors that work without any oversight. Most modern automatic door openers shouldn't require a handicap door button. However, a handicapped door button outside a commercial property is considered ADA-compliant.
What Are the Specifications for Door Compliance?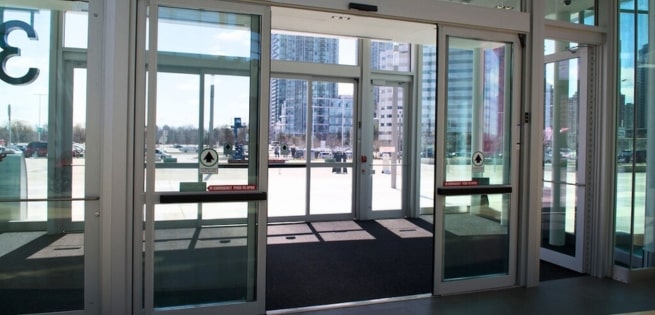 All sorts of technical specifications can play into whether or not a door is considered compliant with accessibility standards. Most kinds of automatic doors qualify.
Folding doors
are one common kind of handicapped door you'll find.
Sliding doors
are also perfectly acceptable.
Revolving doors
are often automatic, but depending on their size, they might prove difficult for folks with mobility difficulties to get through. For this reason, many modern revolving doors will have a handicapped door on either side of them. This door might be accessible via a motion-activated sensor or a handicap door button.
There are a few standard specifications:
The clear width of a door opening must be at least 32 inches
The height of the door must be at least 80 inches
Surfaces leading up to the door must be completely smooth
Any projections from the door must be no lower than 34 inches and jut out no more than four inches
What Are the Specifications for Hardware Compliance?
You can consider each part of the
automatic door system
as part of their hardware. These bits must be compliant to be sure your building falls within accessibility standards.
ADA compliance requires
that all operable parts of any hardware on a handicapped door must be at least 34 inches in height and at most 48 inches in height. The maximum allowed required force to be opened is 5 pounds. These requirements help ensure that just about anybody can access your building.
Another specification you should be aware of is that as of the 2021 version of the international building code, all buildings with an allowed occupancy of 300 or more people must have at least one power-operated door. This handicap door can be either fully power-operated or low-energy power operated.
Categories
Recent Articles
Why You Should Install Automatic Handicap Doors for Your Business to Ensure Compliance