Door Maintenance Contracts
Are you looking for help with the maintenance of the commercial doors in your building? Our Preventative Maintenance Agreements are the way to go. We will make sure your doors are working properly and help avoid costly repairs. We'll also ensure that safety standards for your commercial building are met. Our certified technicians are experienced professionals and will keep your door systems working efficiently.
Avoid Costly Service Calls
Unplanned downtime is costly for all businesses. A preventative maintenance program will help avoid costly service calls for your automatic doors and keep your door operational. It will help to :
Limit the need for door repairs
Eradicate unsafe conditions
Reduce the impact of risk audits
Control expenses and eliminate emergency services
Our service technicians are AAADM certified (American Association of Automatic Door Manufacturers). They will regularly inspect the commercial and pedestrian doors in your building. They make sure that your automatic doors function at optimal operating standards. Some of the components that are checked are sensors, guide rails and lubricants.
Service plans
Basic Features
AAADM Certified Professional Technician
Time and Material discounted labor rate for facilities with one hundred or more doors
Gold Features
AAADM Certified Professional Technician
Covers all contracted Automatic Doors
Two Preventative Maintenance checks per year
Platinum Features
AAADM Certified Professional Technician
Covers all contracted Automatic Doors
Two Preventative Maintenance checks per year
Our Commercial Door Services
Download: Preventative Maintenance Tips For Your Automatic Doors
Take these simple measures to ensure that your commercial and industrial doors run smoothly year round and function consistently.
Industry Applications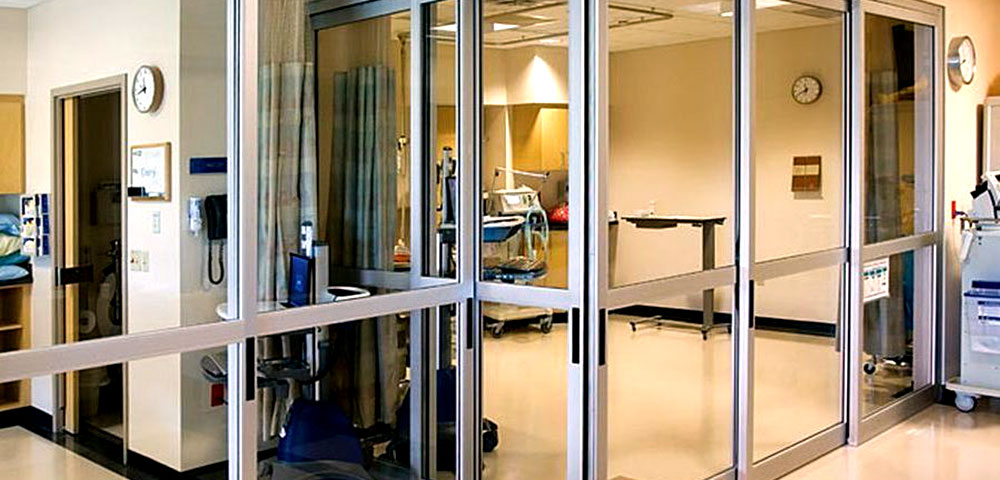 Hospital Doors
You can't afford the breakdown of a door in a medical facility, especially during a pandemic. From the hospital entrance doors to the individual hospital room door, each and every door needs to work flawlessly and around the clock.
If you are an architect or specifier, then click here for our "Door Systems for Health Care Guide".
Our certified technicians keep all your automatic doors in shape, from your revolving door entrances to swing doors, sliding and folding doors, and even automatic windows for dispensaries.
Advanced Door Service makes a difference in patient experience and hospital efficiency. Our AAADM certified technicians have extensive experience with any door in your clinic or healthcare facility. Their vans are stocked with door hardware, and they are ready for almost any repair to your sliding door, swinging door or any other automatic door. We offer
24-hour service
as well as
maintenance contracts
for regular maintenance of all doors in your medical facility regardless of the manufacturer.
Healthcare Doors by Horton Automatics
Hospitals and medical facilities have specialized access needs with the toughest building codes. Many openings require a fire door, and for some applications hermetic door closure is necessary. Of all hospital doors manufacturers, Horton offers the widest selection of healthcare doors in the industry.
As a Horton Automatics company, we are uniquely equipped for handling the installation, maintenance and repair of any automatic doors in your hospital. Our AAADM certified technicians also have extensive experience repairing doors of any other major brands in automatic doors.
Revolving Doors in Hospitals
Revolving doors are well-suited for anyone wanting to enter or leave a building. In a hospital, however, there are more factors that are important such as the right diameter and speed to accommodate wheelchairs, walkers and gurneys.

Horton Grand® and MiniGrand® revolving door systems are ideally suited to the requirements of health care facilities. They offer impressive architectural appeal, generous openings and the extra advantage of a constant seal for energy efficiency and LEED credits.
Healthcare Sliding Doors
Automatic doors are engineered to meet the 24/7 demands of medical facilities. Horton offers an industry leading range of sliding door entrance systems, all designed for ultimate dependability.

We service Horton Automatics doors as well as all other brands, and have access to all sliding door parts you may need, from elegant all-glass entrance systems to telescoping sliding doors.
Swinging and Folding Doors Door
Horton Automatics swing and folding door systems provide a full range of solutions for ADA compliant handicap door openers or high traffic automatic access. These systems come standard with AAADM certified installation.
Swing door operators can be installed at new construction or to upgrade an existing door. At Advanced Door Service we assist you with retrofitting an existing swing door, and with ongoing maintenance and repair
Folding doors are very versatile and provide a solution for very large openings as well as for narrow corridors that require wide openings in a narrow space.
We often install automatic swing door closers when an automatic door is not necessary, or when a manual hinged door is located next to an automatic door.
Specialty Operators may be used for extremely heavy doors such as lead-lined doors for an x-ray room or storage vault systems with fire protection
Patient Room Systems
Patient room door systems allow the option to leave doors completely or partially open without the need to break out the doors. These doors are ideal for optimum space utilization.

Advanced Door Service services a broad offering of automatic swing and sliding doors as well as manual barn door configurations for patient rooms, exam rooms and toilets.
Hospital Door Hardware
Hospital door hardware needs to withstand more wear and tear than in most other applications. There are also more requirements for doors in health care, such as fire protection, access with wheelchairs and hospital beds, access control etc.

At Advanced Door Service we carry quality commercial door hardware to maintain and repair all your doors and make sure they are reliable day and night, year-round.
Specialized Applications
Our team at Advanced Door Service has vast experience with hospital doors. [Call us] to address your specific needs, such as breakaway, self-closing, UL 1784 smoke infiltration, AIIR isolation, card access interface etc.
Pressure Rooms
Hospitals have air infiltration requirements for negative, positive and combination pressure isolation rooms. These can be used for an operating theatre and airborne isolation infection rooms

Horton Automatics offers solutions to address these needs. Doors can be activated with touchless sensors or hands-free door openers to avoid contamination. The alternative mechanical self-closing system requires no power.

Isolation room doors greatly reduce air leakage and include tested perimeter seals and self-closing devices. These systems are easy to clean and reduce the risk of nosocomial infections. They are available in electromechanical or no power self-closing.

Atmospheric Sliding Doors are designed to meet clean room standards. These doors are excellent for areas such as labs or pharmacies where ultra cleanliness is required.
Critical Care and Intensive Care Systems
In an ICU environment it is important that patients are always in full view through the glass door. When there is an urgency then the full breakaway feature allows for all panels to swing out of the way. The resulting large opening allows swift removal of patients or equipment.

We are proud to be part of the Horton Automatics family, which consistently develops first-to-market systems such as the self-closing smoke-rated ICU/IMU/CCU door systems and the first airborne infection isolation room door that requires no power.

Staff as well as patients appreciate design details such as Mini-Blind and Opaque glass for privacy, light control and hygiene. Larger openings for moving beds and equipment are also now possible with the smoke-rated telescoping door system.
Security Windows
Hospitals require security windows for drive-through pharmacies, labs, supply rooms and other secure interior areas. These windows can be equipped with transaction drawers, bullet resistant glass, a choice of counter tops and other custom features.

At Advanced Door Service we have extensive experience with the maintenance and repair of these drive-thru windows in healthcare.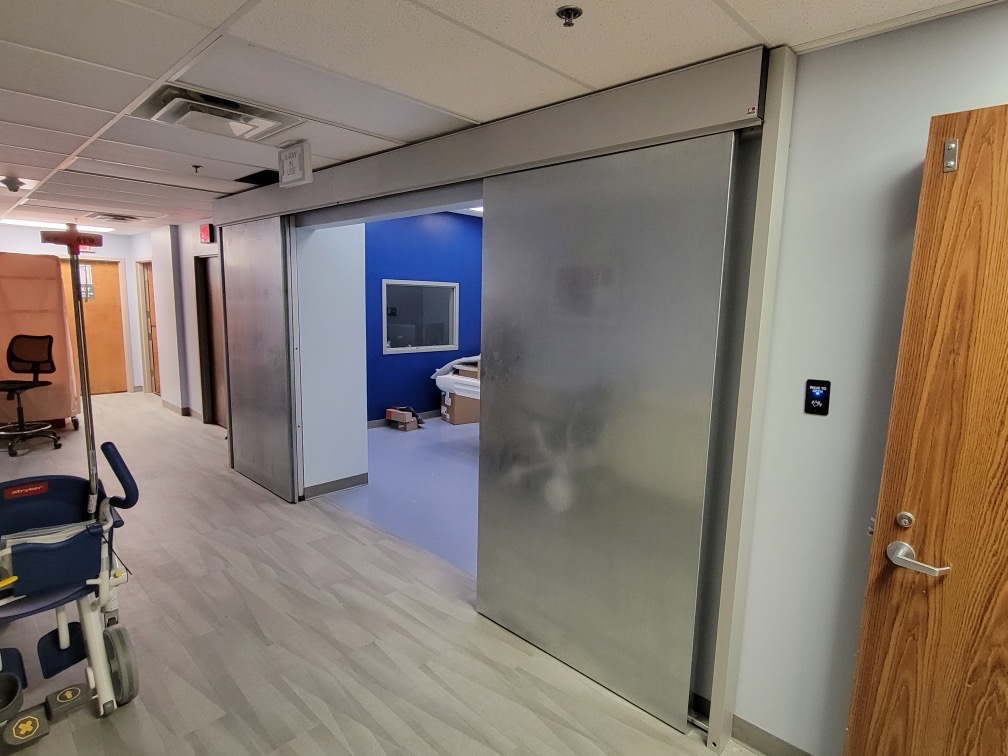 Industrial doors
Industrial Door Repair
Advanced Door Service offers professional, experienced support for your commercial doors. Our repair and maintenance team is highly qualified to get any job done correctly. We pride ourselves on our expertise when it comes to commercial door repairs.

We meet all safety standards and quality controls for industrial door systems. We take building codes and national standards seriously in the maintenance and repair of your industrial doors.
Sliding Door Systems
Advanced Door Service services sliding door systems in a variety of settings, including industrial and sterile.

Advanced Door Service maintains and repairs sliding doors in warehouses, biotech labs, food processing facilities, and almost any industrial setting you can think of.
RapidSlide
Horton's RapidSlide® industrial system is Ideal for very large openings in industrial settings. Lightweight Thermacore® insulated sectional steel door assembly has 24″ (610 mm) modular sections as required to fit your opening. The panel is metal/foam/metal sandwich panel construction with exterior aluminum framing channels.
HD-Slide Industrial with Flush Steel Panel
Surface applied industrial package for large openings. The heavy duty panel has 18 gauge galvanized steel skins with Kraft honeycomb core. The panel has a flush appearance with no exposed fasteners. These industrial systems are Standard Surface Mounted Packages with Floor Mounted Guides. Total weight limit per panel to be 500 lbs (227 kg) for single slide and 300 lbs (136 kg) for bi-parting unit. Please consult with us for other available door types or for doors weighing in excess of 500 lbs.

RapidSlide® Thermacore Panel
Platform Screen Doors
Advanced Door Service services platform screen doors in public and private transit applications. These are often implemented in:
Airports
Hotels and Resorts
Theme Parks
Transit Hubs
Service Windows
Service on automatic and manual service windows round out the complete industrial and commercial door service packages offered by Advanced Door Service.

Restaurants, pharmacies, banks and other businesses are often offering drive-thru windows for their patrons. Advanced Door Service provides maintenance and repair services for drive-thru windows of all brands, including the high quality offerings of Horton Automatics.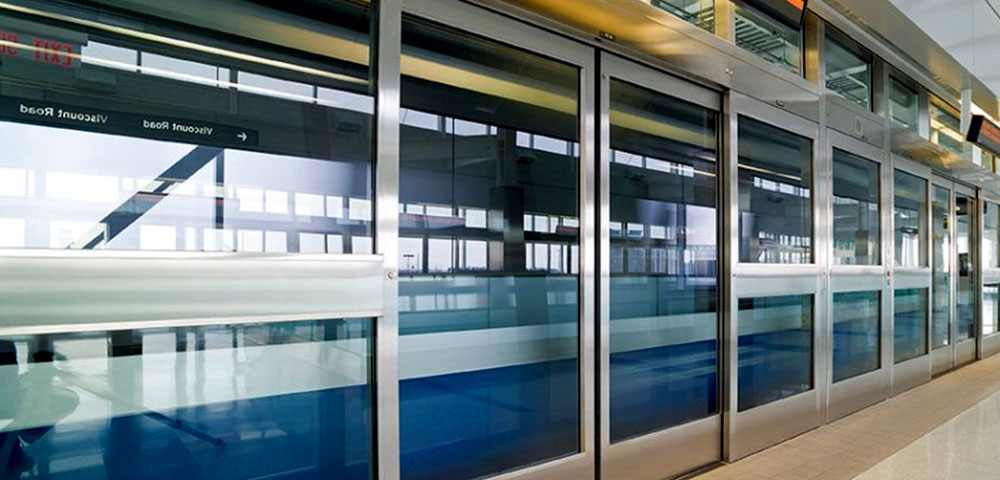 Security Doors
Our clients trust in the access control provided by commercial security doors. Advanced Door Service understands the importance of safety and security in the commercial setting, which is why our maintenance services will provide you the peace of mind that the job is done right.

The term security doors can bring about visions of bars, swirling light, or alarms. This can be off-putting to businesses and other commercial entities that prefer a clean, inviting look. Good news! Advanced Door Service is sensitive to the importance of first impressions and can help ensure your security doors are both functioning securely and aesthetically.
Commercial Security Doors
Horton Automatic doors and Won-Doors can be found worldwide in hospitals, airports, hotels, and in a variety of other locations. Every product is designed by dedicated engineers and tested rigorously to meet the demands of any commercial setting.

Advanced Door Service can service many varieties of doors, including:
As you can see, our services are diverse enough to meet your commercial-grade security door needs.
Security Revolving Doors
Advanced Door Service can service a full range of security revolving doors for any commercial setting. Commercial grade security revolving doors can feature more than simple locking mechanisms.

The Horton Visdom ELITE is a two-way, matless, anti-piggyback, and anti-tailgate security door. This system can detect unauthorized entry methods like piggybacking and tailgating.

The technology offered by Horton's Visdom ELITE is unmatched, preventing common inaccurate detections based on weight or other violation identification systems. The system can differentiate between actual violations and authorized personnel such as delivery persons or someone wearing heavier clothing.

The Horton Visdom ELITE also features:
Dual sensors
Real-Time Clock (RTC) for event marking
Can be retrofitted into some existing and all Horton Automatics revolving doors
Nearly immune to shadow, reflection or environmental change
Multi-directional continuous flow
Available in bullet-resistant glass

Additionally, it is flexible enough to offer several modes like card access, card in with free exiting, and anti-passback. The Visdom ELITE is perfect to pair with the Horton Automatics ControlFlow system (see below) for easy access to valid entries.

Advanced Door Service can quickly, easily install Horton's Visdom ELITE system without special mounting in existing systems or can install a complete new system.
ControlFlow® Two-Way Security Revolving Door System
The ControlFlow by Horton Automatics is a two-way revolving door system that offers controlled access while not sacrificing the aesthetics of your commercial entryway.

Advanced Door Service recommends this security revolving door system for businesses hoping to prevent unauthorized access. Cutting-edge sensor technology combined with biometric or carded access allows authorized personnel easy access while limiting uninvited guests.

Some benefits of the ControlFlow systems include:
Beautiful design and retrofit capable
Cutting-edge sensor tech
Matless design for a clean look
Audible alarm systems
Automatic reset protocol after an intrusion alarm
Immune to shadow, reflection, and environmental changes
The ControlFlow is offered in one-way, one-way airport, and two-way card access security packages. It is fully customizable to the security level your business requires up to a bullet-resistant glass and 3D anti-piggybacking/anti-tailgating sensors.

The system is ideal for any commercial installation requiring security up to high-level installations like banks and government offices.

The Horton ControlFlow systems feature:
Segmented or Round drum
Matless technology (overhead sensors)
Wireless remote with 16 operational modes
Programmable voice messaging
Magnetic breakaways for emergencies
Choice of finishes
Specialized sizing available
Advanced Door Service is confident in the Horton Automatics ControlFlow system and can install it quickly to get your commercial space as secure as you need it.
Secure Exit Lane
The Secure Exit Lane provides one-way pedestrian traffic flow between the secure and non-secure zone. The Secure Exit Lane creates a physical barrier detecting and preventing unauthorized entry thus maintaining the natural flow of traffic. The system uses an array of sensors to detect unauthorized traffic from accessing a secure zone. The Secure Exit Lane can minimize the need for physical personnel by providing remote monitoring capability. Unauthorized entry and static object detection are only two of the many potential threats capable of triggering a security alert at the Secure Exit Lane.
Platform Screen Doors
Advanced Door Service believes platform screen doors are ideal security solutions for transit systems. We can service many customized solutions for all types of rail applications.

We can service or repair platform screen door solutions in various transportation settings, including airports, and are extremely confident in Horton Automatics' Platform Screen Door solutions that help people travel to and from every day.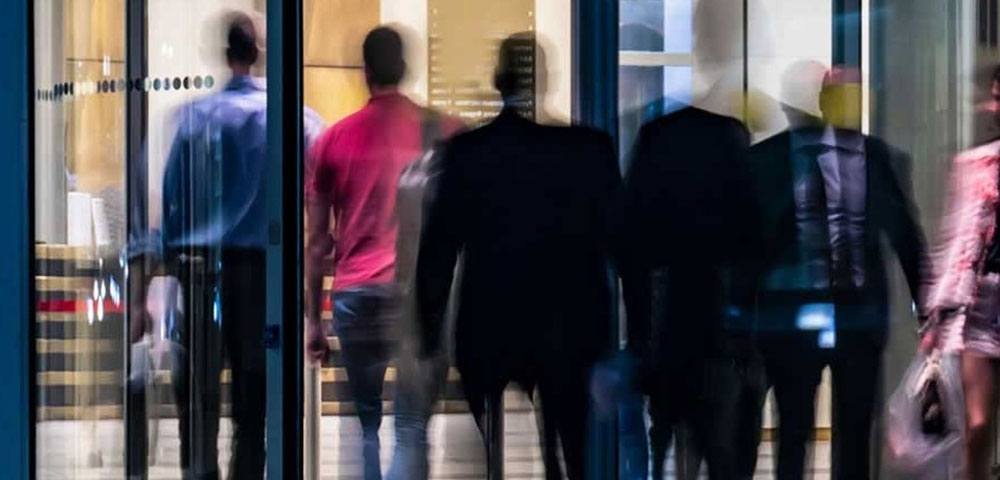 Hospitality Doors
Beautiful and Functional Automatic Hospitality Doors
First impressions are everything when it comes to running a business. This is especially true in the hospitality industry. The doors to your building make the first impression, and Advanced Door Service ensures the best guest experience from the moment they reach your entrance.
We provide solutions for any opening or space that will impress your patrons while offering a practical, reliable door. You can expect our doors to meet both your guests' needs and your own requirements, including safety, security, dependability, and beauty.
Advanced Door Service has the hardware and doors for practically every application in the hotel industry. The doors are attractive and secure and will please hotel management with total cost of operation.

Why Advanced Door Service for your Hospitality Doors?
Advanced Door Service uses automated door systems by Horton that are unmatched in value, design, and safety.
Pleasing Aesthetics Horton door systems may be specified with custom finishes in a wide range of colors and wood grains with superior durability and color retention.
User Friendly Easy hands-free operation helps patrons with luggage or baby strollers, and makes deliveries efficient and fast.
Low Cost of Operation Our robust door design stands up to the highest traffic conditions at low maintenance costs. Strong weather seals lead to substantial energy savings.
Virus Prevention Harmful viruses can be spread by touching contaminated door handles. Automatic Doors keep your guests healthy!
Revolving Doors for Hotel Entrances
At Advanced Door Service we install, maintain and repair several automatic,
revolving door systems
that are perfect for any space that would benefit from the grandeur and improved traffic flow of a revolving door. Our doors can handle any amount of traffic and provide energy-efficient operation.
There are different models of automatic revolving doors and manual revolving doors, which can be installed with a center shaft or center core vestibule design.
We also offer Security Revolving Door Systems including options such as bullet-resistant glass and tailgating prevention.
Automatic Sliding Doors
Advanced Door Service offers a wide variety of
sliding door systems
in hotels and restaurants. We allow no compromises to quality and usability in the construction, installation and maintenance of our sliding doors, to make sure that your opening will retain its beauty and operate flawlessly in service of your patrons.
Automatic Swing Doors
We provide a full range of
automatic swing door systems
for your establishment, with adjustable opening and closing speeds, obstruction sensing, Push-N-Go activation and other usability and safety features.
Our doors are available as single, pair or double doors with a choice of in-swing or out-swing and left- or right-handed operation. They are offered as Manual, ADA Low Energy and Full Power swing doors.
Finally, they can be offered as Fire Doors and installed as part of your overall fire protection plan.
Access Control Systems
Our hospitality door offering integrates well with a large variety of access control systems. This allows us to provide a complete service offering including:
Electronic locking systems
Mobile key solutions
Hotel room door locking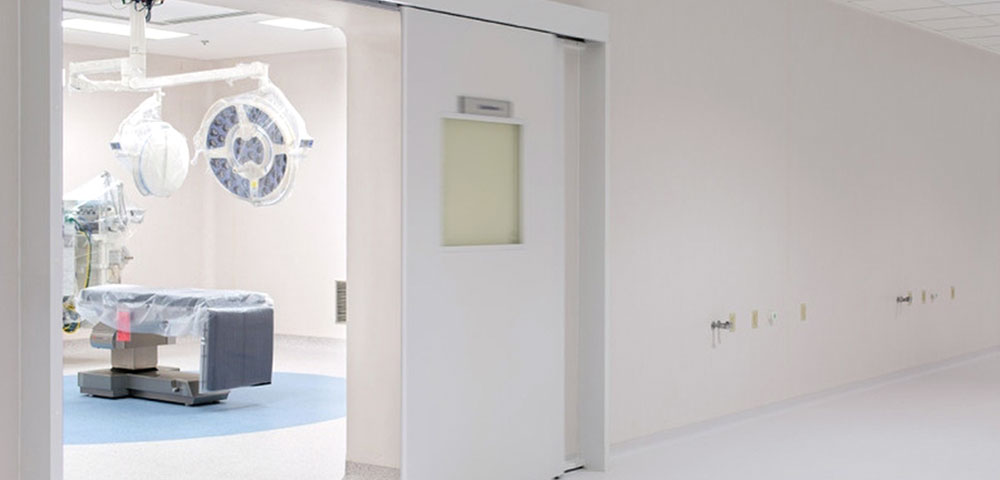 Cleanroom Doors
Controlling the spread of germs is very important in any medical setting. To minimize the risk of contaminants and airborne particles, hospitals and clinics need cleanroom doors with airtight seals that open and close at high speed without having to touch the door. Reliable doors play a critical role in the protection of your patients, your healthcare professionals and your visitors.

Advanced Door Service is a leader in the specialty doors and cleanroom doors market. We offer medical automatic sliding doors in a range of configurations. All our doors meet stringent medical-application requirements and can be applied in the most demanding environments, e.g. self-closing smoke-rated ICU doors and airborne infection isolation room doors that don't require power.

These doors are not only for medical facilities but for any controlled environment such as the chemical, pharmaceutical, and micro-electronics industries.
Features of Cleanroom Doors
Clean room doors by Horton Automatics are specially designed for the critical care environment of ICUs. The Horton automatic sliding clean room door comes in two-and three-panel configurations with a trackless design for better mobility and hygiene. All are available as manual and self-closing automatic doors.

Patients are in full view when the doors are closed, and the full breakaway option of the panels allows you to move patients efficiently.

The Horton UltraClean Sterile door is a high performance door for very low particulate applications such as food preparation facilities and includes flush stainless steel panels.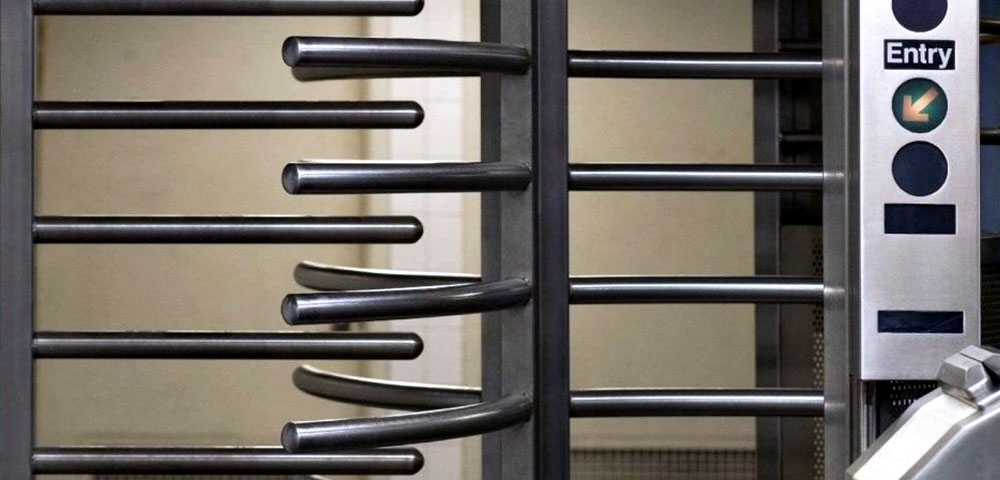 Transit Solutions
Modern public transit has high security requirements to prevent people from entering secure spaces or from getting harmed. Office buildings use doors with card access, airport terminals use security gates, and at train stations people need to be protected from getting hurt by train doors or from falling off the platform.
Platform screen doors
Rail systems need solutions to keep people safe. At Advanced Door Service we offer full height
platform screen doors
that create a total barrier to prevent travellers from falling on the track. Every project is unique, and our design team always comes up with solutions to address complex challenges.
The Secure Exit Lane system is used to prevent pedestrians from entering a secure area, while keeping easy one-way traffic flow from the secure to the non-secure zone. It creates a physical barrier and uses an array of sensors to detect and prevent unauthorized traffic. The Secure Exit Lane can minimize the need for physical personnel by providing remote monitoring capability.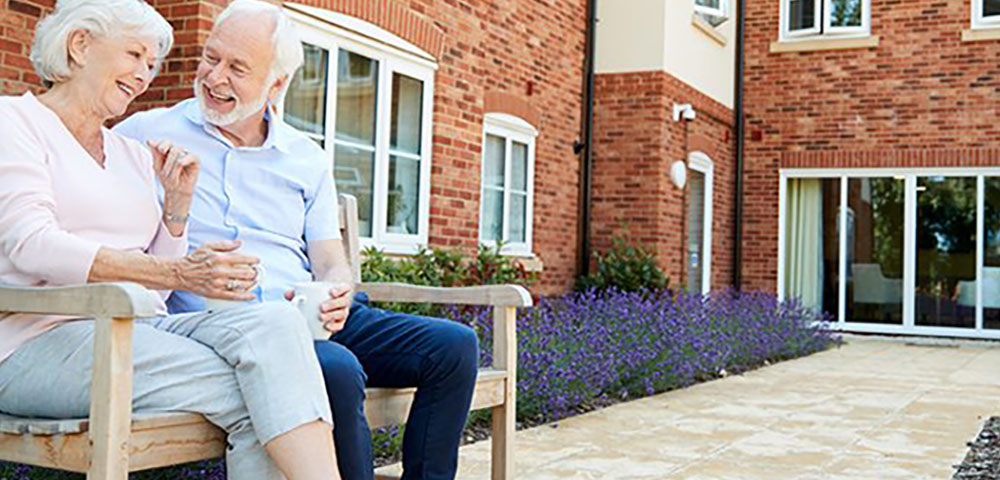 Senior Living Facilities
For millions of senior citizens across the nation, nursing homes and assisted living facilities aren't just buildings – they're homes. Residents need and want their homes to be safe, comfortable, and accessible.
Doors for Senior Living Facilities – Solutions from Advanced Door Service:
Increase mobility and independence for residents
Maintain a high level of security for visitors
Reduce health risks
Keep staff and employees operating efficiently and effectively
Decrease energy costs
Doors for Senior Living Facilities
Durable, reliable automatic and manual doors for all areas in nursing homes and senior living facilities:
Main Entrances
Corridors
Patient Rooms
Activity/Recreational Areas
Restrooms

Executive Offices
Rehabilitation Facilities
Dining Facilities
Common Areas
Secure Areas
For these rooms and areas in nursing homes and senior living facilities, Horton Automatics offers an array of durable and reliable automatic door systems:
Revolving Doors: Horton Grand® and MiniGrand® revolving door systems are ideally suited to the requirements of healthcare facilities. These doors can be customized to the right diameter and speed to accommodate wheelchairs and walkers.
Sliding Doors: Engineered to meet the challenging demands of nursing homes, which operate 24 hours a day, seven days a week.
Swing Doors: These systems provide ADA compliant handicap door openers and high-traffic automatic access.
Swing Door Operators can be installed at new construction or to upgrade an existing door.
Folding Doors: These are very versatile and provide a solution for very large openings as well as for narrow corridors that require wide openings in a narrow space.
Patient Room Door Systems: These systems allow the option to leave doors completely or partially open without the need to break out the doors. These doors are ideal for optimum space utilization.
Automatic doors
are an appropriate and beneficial choice for nursing homes and assisted living facilities. This technology serves both to enable and limit independence, depending on the circumstances that apply for each installation. For caregivers in facilities with elderly residents, automatic doors can be an extra tool to safeguard residents. For facilities looking to allow residents, visitors, and staff to move about more easily and quickly, automatic doors offer convenience and freedom for users, regardless of their physical limitations.
Patient Wander Management Systems
Does your facility utilize Patient Wander Management systems?

Advanced Door Service can make sure your new installation works seamlessly with any existing Patient Wander Management systems you have in place.

Wander Management Systems consist of RFID-enabled technology that tracks patients within set borders to guarantee their protection. Most are specifically designed for Alzheimer and dementia patients allowing them to have freedom within their resident facilities while giving them essential security. By utilizing the patient wandering system, medical staff is able to monitor these patients while attending to other responsibilities.

We recognize how important these systems are within hospitals, nursing homes and senior living homes. Our team will work with you to make sure your system stays intact.
Senior Living Facility Fire Door Inspections
Fire door inspections are the first step toward fire door compliance. Fire doors must be tested and inspected on an annual basis. A ruling of non-compliance could have tragic consequences.

In order to protect against the spread of fire and smoke within, into, or out of senior living facilities, the facility manager(s) needs to implement preventative maintenance and fire door inspection programs in accordance with local and national standards. Fire door failures in an emergency can happen due to lack of maintenance, physical damage to the door, the closure, guides, tracks, or by obstacles blocking the fire door. Each of these put employees and customers at risk in case of a fire emergency. You can schedule your fire door inspection here.
Advanced Door Service for Professional Automatic Door Service
Your senior living facility commercial doors are designed to last for many years. Any building manager wants to increase the lifespan of their investment and avoid major commercial door repair and costly replacements. Regular preventative maintenance will keep your employees and visitors safe and ensure that your automatic doors work efficiently.
Fast and Efficient Automatic Door Maintenance
At Advanced Door Service we offer inspection and maintenance based on the recommendations and safety standards of the American Association of Automatic Door Manufacturers (AAADM) and adapted to your specific needs.

Our standard service offering is available for all commercial doors. Our AAADM certified technicians are trained to do maintenance and repairs on automatic doors of all major manufacturers.

Call us at 800-492-2392 and one of our service technicians will be dispatched to your building with all tools and parts needed to do almost any repair.
24/7 Emergency Service and Repair
Sometimes accidents happen and cause a security risk or hinder the traffic in your building. If that happens, call our emergency automatic door repair service. Our service technicians are available 24/7 to make sure the safety and security of your building is restored as quickly as possible.
Preventative Maintenance Programs
Many of our customers choose to get our technicians to come out regularly for preventative commercial door maintenance on their automatic doors. We prevent issues from happening and keep your doors working safely and efficiently. Another advantage of our maintenance contracts is the discount our clients receive on labor and service during normal business hours as well as for after-hours service calls.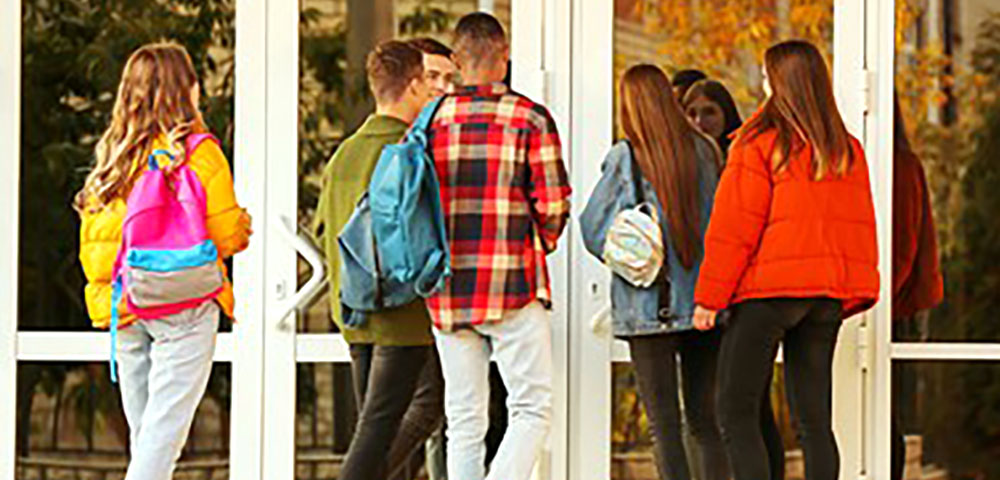 Education
No matter where you are, you want to feel safe within your environment, especially in the education system. Schools must be functional yet safe for students of all ages, especially young children. At Advanced Door Service, we can help give students, staff, and parents the peace of mind needed for a successful school year. Here, clients have options that are ideal for education buildings that house many people at once.

Whether you are looking for extra security, fire protection, or doors that open on command, Advanced Door Service has options for your education facility with Horton Automatics and Won-Door offerings.
Why Choose Advanced Door Service for Your School Door Needs?
When creating the best space for school-aged children, college-bound teens, or vocational students, you want the entrances to the building to be secure, easy to open, safe from damage, and backed with professional and convenient maintenance.
Easy Access for the Disabled
Doors designed by Horton Automatics help schools adhere to the Disability Discrimination Act, providing more accessible access to the school building, classrooms, and restrooms for those who have a hard time pushing and pulling on manual doors.

Automatic doors make movement throughout the building easier for anyone in a wheelchair or who uses a walker or crutches. Revolving doors provide ample space and make it much easier for people with mobility issues to access doorways.
School Safety – Security and Fire Doors
Sadly, the safety of our schools is a huge topic in recent years. With the assistance of Won-Door, Advanced Door Service is making school a safer space for children, teachers, and staff, offering schools products to protect against fires, intruders, and more.

Won-Doors can stop intruders in their tracks with these added benefits:
Access Controls – limits access after hours or in emergencies at the push of a button. Connects to external peripheral devices such as a keypad, card reader or fingerprint authentication device. Blocks sight lines and keeps out unwanted intruders.
High speed closing options – compartmentalizes buildings in seconds while still meeting ADA requirements and allowing for safe and secure passageway. Shut and lock corridors with a push of a button.
Fire Protection – Won-Door pioneered the development of the first-ever accordian type, fire-rated horizontal sliding door. The doors provide fire protection while also providing an increased traffic flow and easier egress.
Cost Effective – Minimizes costs by allowing for security on fire doors and increases leasable space. Integrates with existing systems, replaces costly fire-rated glass and lowers maintenance costs, providing larger more open spaces for less.
Won-Doors Provide help provide efficient use of space for foot traffic.

In addition, Horton offers bullet resistant glass on several of their door systems: HD-Slide™, HD-Swing™, several Horton Revolving Door systems (Grand®, MiniGrand®, AutoFlow™, Visdom Elite®) and Secure Exit Lane systems.

A blast resistant and hurricane-rated sliding door system from Horton Automatics is designed to meet the US Department of Defense United Facilities Criteria (UFS): UFC 4-010-01 anti-terrorism standards for blast resistance.
Accessibility
With revolving, sliding, folding, and touchless options, there is no lack of accessibility with a wide range of doors.

Our product offerings make life easier for everyone on school grounds, from the youngest kindergarteners with backpacks a little too big to distracted high schoolers with phones in their hands.
Aesthetically Pleasing
Keep your schools up-to-date with a modern appearance by swapping old doors with tiny glass slots or no windows with beautiful doors by Horton.
Hygienic
Since the COVID-19 pandemic, many people are taking a closer look at proper hygiene and finding ways to make their schools safer for students' health.

Contactless doors provide just another barrier for your students, teachers and parents from germs. We offer hands-free door opener installations that keep the germs that plague door knobs and handles away from students and staff.
K-12
Sadly, schools are going through more than ever, and our children's safety and protection are of the utmost importance when ensuring they receive the best education possible.

With security door options from both Horton and Won-Door, parents can feel comfortable knowing their child's school is protected.

Options available for K-12 include:
Bullet Resistant Glass Doors
Blast Resistant Door
Won-Door Fire & Security Doors
Using Won-Doors can also provide an easy escape from fires and other dangerous situations. School safety and security are covered with the help of Won-doors.
Colleges and Universities
There are many door options when looking for the perfect solution for a college or university. These doors must be safe, functional and provide convenience, accessibility and added efficiencies.

Horton offers higher education buildings the products they need for safety and productivity in all building areas.
Corridor Solutions
Entrance Solutions
Meeting Room Solutions
Restroom Solutions
The safety and security of your school doesn't stop in the classrooms. There are also fantastic options for dorms and common areas to make school life a little easier and provide peace of mind, even in the smallest of spaces.
Vocational Schools
In a vocational school, students can learn valuable trades hands-on. Since their hands are always busy and likely full, automatic touchless doors are a must.

Advanced Door Service can provide sliding and swinging touch-free doors that are durable, visually pleasing, and perfect for vocational schools.
Classroom Solutions
Entrance Solutions
Restroom Door Solutions
Advanced Door Service Maintenance and Service For Education Facility Doors
The typical school day is a busy time for everyone inside the building and out, leaving no time for malfunctions and mishaps.

When you buy a door from Advanced Door Service, you get the promise of quality work and assistance when you need it, backed by our commercial door repair services.
24-hour Emergency Service: Around-the-clock emergency service with experts on-hand to fix any problems.
Commercial Door Installation: We provide a three–step service to ensure your door is perfect the first time.

Pre-installation: We help you select the ideal option for your school.
Installation: Our team works hand-in-hand and builds a door you are 100% happy with.
Post-installation: We test and inspect the doors to ensure a safe and durable product.

Commercial Door Repair: We offer commercial door repairs for all businesses, including schools.
Door Maintenance Contacts: We want to ensure our customers are always safe and protected, which is why we offer a maintenance contract to all schools. We provide scheduled inspections and perform repairs when needed.
Call Advanced Door Service For Your School Door Needs
We are here for your school whenever you need us, and our doors are designed to keep you safe. Don't wait to protect your students and school. Contact Advanced Door Service for all your automatic door needs.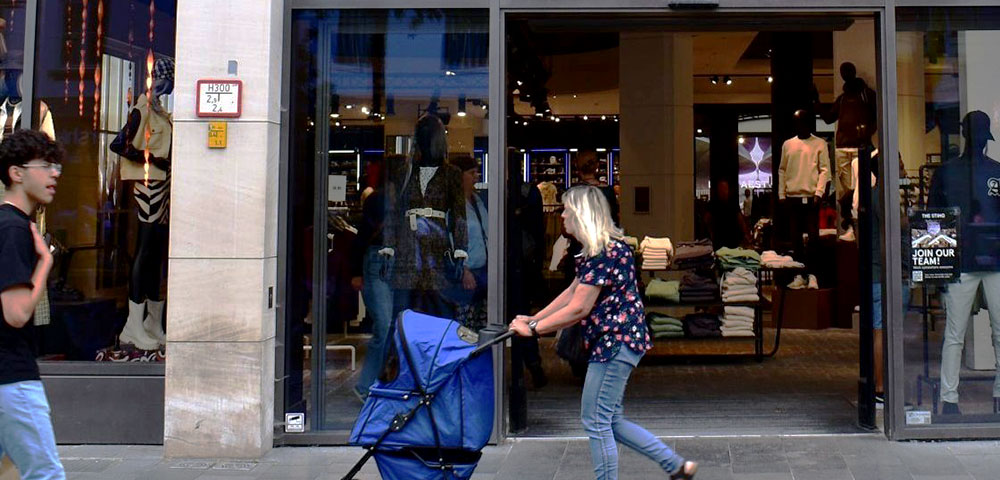 Retail
No matter what type of business you run, you want to feel safe and secure and have a competitive edge at the entrance to your building. We outfit all types of businesses and help improve their structural integrity, physical appearance, and functionality just with a new storefront installation or service.
What Is a Commercial Storefront Door?
Commercial doors occupy the front entrance to any retail establishment. When properly outfitted, they are functional (to facilitate safety requirements and heavy foot traffic) and aesthetically pleasing (they keep front entrances attractive).
How Wide Are Storefront Doors?
Storefront, commercial door sizes vary based on the type of door. For example, revolving storefront doors typically range anywhere from 6 to 16 feet in diameter. Doors with diameters fewer than nine feet are typically reserved for security and controlled access applications. Doors more than 10 feet in diameter, can serve places like airports where there is very heavy foot traffic.
What Makes an Ideal Storefront Entrance Door?
Usually made of metal or steel, these doors entice customers to enter your establishment. Therefore, they should be aesthetically pleasing, maximally functional (whether automatic or revolving), and have enough design edge to make your business feel compelling just by looking at its entrance.
Types of Storefront Doors
Storefront doors are chosen by taking several factors into account. Some of them are location, average foot traffic, safety, type of business and associated costs. Making a decision on what door will work best for your facility is a big decision. The doors should be aesthetically pleasing, maximally functional and have enough design edge to make your business feel compelling just by looking at its entrance.

There are a few different storefront doors that can serve different purposes.
Sliding Doors
A retail store that is bound to see heavy traffic will benefit most from an automatic sliding door. The automatic sliding doors are typically glass doors which also allow customers to see the interior of your store before even entering. Seeing what is inside the store can motivate shoppers to come in and take a closer look.

Sliding doors are the perfect solution for storefronts that want quick and easy access. Sliding doors reduce wait times at the store, which means higher customer satisfaction. They can be installed on both the inside and outside of a storefront, allowing customers to quickly enter and exit without having to manually open a door.

Large offices may also opt for an automatic sliding glass door, not only to make entry and exit easier, but to let natural light through at the same time.
Swing Doors
Swing doors are one of the most popular types of automatic doors for retail applications. They are typically used to provide access control and detect unauthorized entry, as well as streamline traffic flow in and out of a store or building.

Automatic swing doors can be fitted with sensors that detect movement or body heat and open when triggered. These sensors allow passageways to remain open while customers move through them but close quickly once they have passed, increasing safety and security. In addition, some models are equipped with an emergency "break-away" feature that allows for a much larger opening for foot traffic, in case of fire or other emergency.

Furthermore, these types of doors can be programmed with different speeds depending on customer needs and offer the added benefit of low energy consumption due to their efficient motors and small power consumption. With great design flexibility, it's easy to see why automatic swing doors for retail applications are increasingly popular!
Revolving Doors
Revolving doors are ideal for high-traffic retail applications. They're designed to provide customers with an effortless and safe entrance and exit experience by revolving in one direction. Since they are see-through, you can see who is entering and exiting the building at all times, which is a nice safety feature.front entrance of a store with an elegant revolving door

Unlike sliding doors or other types of automatic entrance systems, revolving doors provide better weather control, reduce energy loss from drafts or climate change through the storefront and eliminate the possibility of the door being blocked open by a breeze. Revolving doors provide bi-directional operation for both entry and exit into your facility. They can also offer significant cost savings by minimizing air conditioning and heat loss. Compared to swing doors, revolving doors reduce over 500% of unwanted air from infiltrating the inside of a building.

Revolving doors are also preferred over sliding abilities because they significantly reduce street noise and don't require extra space for their operation.

If you're looking for an efficient door system for your retail business that provides both convenience and aesthetics then revolving doors are an excellent option to consider!
Are Storefront Doors ADA Compliant?
As these doors are the front and main entry points to your business, they must be ADA Compliant for accessibility.

If your business uses a revolving door, you'll need another entrance, according to the ADA Compliance laws: "Revolving doors shall not be the only means of passage at an accessible entrance or along an accessible route. An accessible gate or door shall be provided adjacent to the revolving door and shall be so designed as to facilitate the same use pattern."

Automatic sliding doors also have width stipulations. The clear width of the doors, measured from the face of the automatic sliding door to the doorstop, must be a minimum of 32 inches.

Swing doors must also meet minimum width requirements for accessibility.
What Users Want in Storefront Entry Systems
Users want aesthetically-pleasing designs, easy entry and exit, and a window into the essence of your business and what it sells. Most businesses concerned with these central factors are successful because they care about the entirety of the customers' sensory and perceptual experiences. They want a tactile connection to your products, so help them make that come alive with an attractive storefront!
Need Help Finding the Right Door Solution
At Advanced Door Service, we are here for your business as your premier automatic door retailer. From automatic door installation to 24-hour emergency service, we can meet your facility's automatic door needs. We have highly adept, trained workers guaranteed to make your storefront commercial doors a welcoming first step into your facility.
What Our Clients Say
Their technicians are very knowledgeable.
Jay, their field technician, is number one in my book. Every service call when he shows up is handled in an efficient and professional manner always with positive results. I would 100% recommend.
Your guys do a great job when working at my facility and they go above and beyond to fix many issues here great attitude and service excellence great to work with your team is number 1 in my book look forward to working with the company for years to come.
Our Process
Occasionally things don't go as planned. Breakdowns don't always happen during regular business hours. If this happens, don't worry! We have certified technicians available around the clock to provide you with 24 hour emergency service.
Call Us 24/7
We answer the phone day and night and have technicians on call 24/7. We schedule a technician within 24 hours. If it's an emergency then we will service your door even after hours.
Fast Dispatch
Our AAADM certified technician comes and investigates the problem. We assess the door and let you know what needs to be done to quickly return it to its fully functional state.
Reliable Repair
We repair your door on the spot with cost-effective and high quality parts from the inventory in our van. For more complex issues or rare parts, we will schedule a timely follow-up.
Service Locations Header
PA
Abington, PA

}

Blue Bell, PA

}

Boyertown, PA

}

Canton, PA

}

Chalfont, PA

}

Collegeville, PA

}

Conshohocken, PA

}

Franklin, PA

}

Harleysville, PA

}

Hatboro, PA

}

Horsham, PA

}

Jefferson, PA

}

Jenkintown, PA

}

Lansdale, PA

}

Larenceville, PA

}

Marietta, PA

}

New Britain, PA

}

North Wales, PA

}

Perkasie, PA

}

Phoenixville, PA

}

Plymouth Meeting, PA

}

Pottstown, PA

}

Royersford, PA

}

Schwenksville, PA

}

Souderton, PA

}

Trenton, PA

}

Warminster, PA

}

Willow Grove, PA

}
VA
Blue Ridge, VA

}

Virginia Beach, VA

}
GA
Blairsville, GA

}

Carrollton, GA

}

Cartersville, GA

}

Conyers, GA

}

Covington, GA

}

Cumming, GA

}

Decatur, GA

}

Douglasville, GA

}

Madison, GA

}

Monticello, GA

}

Newnan, GA

}
Rome, GA }